Banned
Join Date: Jun 2006
Posts: 4,466
Rumor: Nick Diaz back to the UFC in 2009
---
Not really much in the link, but apparently they have insider info regarding Diaz coming back to the UFC....
http://www.mmascoops.com/news.php?page=/228274907
Quote:
MMAScoops.com has learned that Nick Diaz is scheduled to return to the UFC sometime in early 2009.

MMAScoops.com has also learned that the UFC is scheduling a Fight Night sometime in January or February and there are talks about putting Diaz in the co-main event position.

Stay tuned to MMAScoops.com for the latest.
i wonder if he'll be fighting at 170 or 155?
Banned
Join Date: Jun 2006
Posts: 4,466
Either division would be fine with me. I see a lot of great fights for him in either one. His brother is on a roll in the LW's, so I wouldn't doubt if he decides to go to WW atleast until Nate starts slowing down
I like Nick but I dont like this move. He is too small at WW and cant make 155 so I dont really like him in the UFC. I was hoping he would head to Dream and fight Sakurai.
---

Gonzaga vs dos Santos - UFC on VS
Vera vs Jones - UFC on VS
Bibs vs Hansen - Dream 13
GSP vs Hardy - UFC 112
Gomi vs Florian - UFN 21
Nelson vs Struve - UFN 21
i don't think he's smart enough to be a title contender in the ufc...he'll put on some fun fights tho

he'd be a nice addition to ww, with his style that could pose problems for some of the wrestlers there....
Even though I am not a fan of either Diaz brother, I have to admit Nick has a ton of skill. No matter what weight class he is in, I see him putting on a lot of exciting fights. I do hope he goes to LW though, a lot of good fights for him there, but he'll probably go to WW, because of Nate.
---

---
Last edited by CornbreadBB; 11-11-2008 at

12:11 AM

.
Wait can Nick make 155? I would love to see him at LW. He's just too small for WW. And while I don't see him being a title contender at either weight, he'll be an entertaining addition to the roster.
f*ck yeah, i luv the way Nick fights, probably my fave style the way he strikes is just awesome. I would trade Diaz for Werdum any day of the week
I didn't think the former EliteXC fighters were allowed to negotiate with other companies yet. I thought Nick would go back to Japan but if the UFC thinks he can fight at either 170 or 155 then he should sell tickets for them.
YES! I hope this comes true. I don't know where he'd go there, probably 155. There's not much to the MW division right now, because he knows he's not getting past Silva. 155 seems like the right place for him, but he'll lose a lot of power, which he already has very little of. And his gas tank will be smaller, but all in all, I'm just happy to see Nick back in the UFC if this is true.

WAR NICK!
---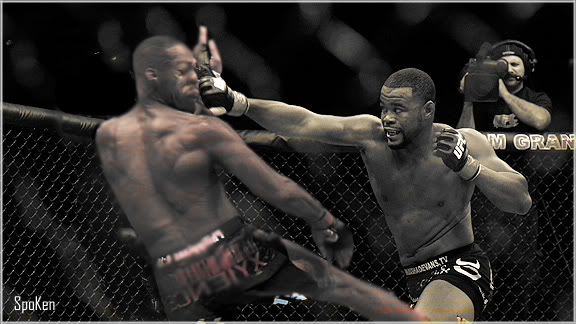 Sweet sig by Life B EZ
I feel like I get paid way to much money, but not enough -Nick Diaz
Currently Active Users Viewing This Thread: 1

(0 members and 1 guests)
Posting Rules

You may post new threads

You may post replies

You may not post attachments

You may not edit your posts

---

HTML code is Off

---