View Poll Results

: Who wins and how

Lesnar KO or TKO
90
37.82%
Lesnar submission
1
0.42%
Lesnar decision
22
9.24%
Randy KO or TKO
51
21.43%
Randy submission
18
7.56%
Randy decision
56
23.53%
Voters: 238. You may not vote on this poll
Megaweight

Join Date: Apr 2006
Location: Everett, MA
Posts: 5,961
Couture vs Lesnar, lets see how MMAFORUM stacks up to Sh*tDog
---
I went to Sherdog and voted on the outcome of the Randy and Brock fight. Right now its about 69% to 31% in favor of The Natural.

I think we have better posters on this forum so im curious to see what we come up with.

I was back and forth with this fight for awhile. But over the last 2 weeks Ive come to the conclusion that Brock is going to overwhelm Randy. Which is something I dont want to see. I truly feel that Randy's plan is to beat Brock then defeat Nogueira and after that I think he would like to retire on top. That would be a story book ending for a guy that has done so much for the sport, I just dont see it happening. Sadly this is going to be the last time we see Randy in the Octogon. And it isnt going to be pretty. Lesnar is going to finish him with strikes in the 2nd round.

Please Randy, prove me wrong!
---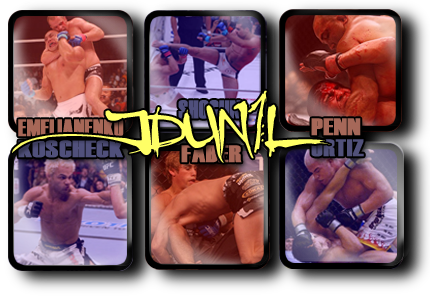 Mancrushes
1.Shogun
2.BJ
3.Fedor
4.Kos
5.GSP
Im in Porno's
Randy by KO/TKO. I don't see a KO, but I think Randy will end up on top of Brock somehow, either by a trip or if Brock gets tired and will end up TKO him.
I've been thinking about this fight a lot, but I've always thought Brock would win. That said, I'm very interested in seeing what Randy will try to do, the odds are against him (as always) but he has almost always been successful as the underdog.
RNC - the fighting mans lullaby

Join Date: Sep 2008
Location: Somewhere between Hell and Earth
Posts: 1,849
Though i still find it a bitter pill to swallow that Brock is getting a title shot so soon, its a fight that he stands a very good chance of winning. IF Randy can make it through the first round, without taking to much damage, he'll go on to win it.

I can see either fighters arm being raised at the end, but i think Randy will end up putting Brock on his back, possibly from a trip from the clinch, and pounding out a victory. Maybe its more hope than anything else. . . Randy TKO via strikes
Amatuer
Join Date: Sep 2007
Location: In ur nightmares
Posts: 162
Good point well made, i think Randy will have to weather the early storm, and i think the longer the fight goes on, the better the odds for Randy. Im praying Randy to win this, i hate the fact that Lesnar walks in and gets a shot at Randyafter a win and a lose.
Amatuer
Join Date: Apr 2007
Posts: 162
For so long now I have thought Brock would take this by overwhelming Randy for as many rounds as he wish.

But lately my mind has changed, I shouldnt underestimate randy, so I think a round 2 TKO.


I really hope randy wins also, don't care for Brock.
hope im right.. randy. 2nd rnd tko
lessnar via tko stoppage....and it won't be a pretty site for couture fans

as brock said, randy is just too damn old to be here
Quote:
lessnar via tko stoppage....and it won't be a pretty site for couture fans

as brock said, randy is just too damn old to be here
And that's exactly why I'd like to see that big tittied bastard lose.
---
Don Frye's Mustache > Kimbo's Beard
Light Heavyweight

Join Date: May 2007
Location: Melbourne, Australia
Posts: 3,474
I honestly can't pick a winner one way or the other.
Currently Active Users Viewing This Thread: 1

(0 members and 1 guests)
Posting Rules

You may post new threads

You may post replies

You may not post attachments

You may not edit your posts

---

HTML code is Off

---