Riggs vs Leban?
---
Anyone else but me wanna see this?

I would love to personally i think itd be a hard hitting war.


I'd put my money on Leben, i like the amount of heart he has but i also think he has to strong of hands and jaw to get beat by riggs.

Btw sorry for spelling Lebens name wrong in the title lol.
---
What is it that is going to be on your mind when you're on your death bed? Will it be the tedious years of 9 to 5, or the memory of some great acheivement. Maybe a moment you stood in glory to the applause of millions.
-Evan Tanner
Yeah that might be a good fight, i wouldn't mind see it.
I like both guys, and would love to see them scrap....It would be interesting to see if Lebens face still holds up after the Sylvia fight haha, yes I know he has fought since, but it kinda gave put a little suspect out there.
i agree this has the makings of a hell of a fight, id pay to see this on PPV.
Riggs by KO. Its his time to shine.
Megaweight

Join Date: Apr 2006
Location: Everett, MA
Posts: 5,961
riggs by split decision
---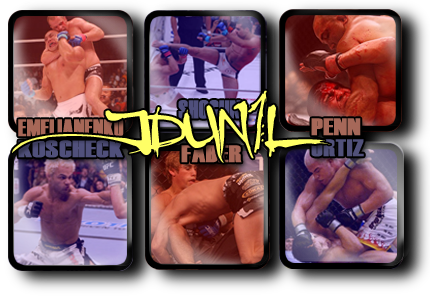 Mancrushes
1.Shogun
2.BJ
3.Fedor
4.Kos
5.GSP
Im in Porno's
Amatuer
Join Date: Oct 2006
Location: new Jersey
Posts: 103
If it stays in the first round then Leben by KO. Reason: I haven't seen Riggs beat anyone significant in the MW class.

If it goes 3 rounds, then Riggs by decision. Leben has no stams and gets careless with his hands. Riggs has heavy hands and fairly good technique. Not world champ technique but at the very least better than Leben.

Either way, a very nice stand up war if it happens.
---
Fedor sleeps with a night light. Not because Fedor is afraid of the dark, but the dark is afraid of Fedor.
Quote:
Originally Posted by jdun11
riggs by split decision
I agree. This fight would be way to hard to choose one because these guys are both heavy hitters and have fair ground game. Leben could go for submission, knockout or anything but i'd stay on the ground if I were him. Riggs has a more chance by knockout because I think hes more powerful
---
Matt "The Terra" Serra

R.I.P Evan Tanner
Most definately would love to see that one.
I thinks Riggs has the advantage but then Leben is a tough muther - would be a great fight either way!
---

- JustJanis the BadHabitBabe
Lover of all things Boxing & MMA!!!
"Welcome to my world. Hope you brought meds!"
Freddie Roach is the MAN!!!
I'm actually going to go with Leban on this one! I think he can knock Joe Riggs out!
---
You forget that this isn't just some brutal sport where everyones out to kill each other. Its much more like a game of physical chess.-looney liam
I think this would be a good fight. I could see it as a main event for a UFN, I think it would be good too because I think they could just brawl I think it would be good for newer viewers.

I don't see this going the distance, I'll have to take Riggs on this one, I have a feeling Leben will keep his hand down and just won't be able to withstand Riggs's power.
---
"Everybody underestimates the kick in the groin." - Bas Rutten
Currently Active Users Viewing This Thread: 1

(0 members and 1 guests)
Posting Rules

You may post new threads

You may post replies

You may not post attachments

You may not edit your posts

---

HTML code is Off

---