tuf 4 fianle fight card
---
The following bouts are confirmed by UFC.com for the November 11th special, Ultimate Fighter 4 finale show live on Spike TV from the Hard Rock Hotel & Casino in Las Vegas, Nevada:

-Matt Serra vs. Chris Lytle (TUF4 WW Final)
-Travis Lutter vs. Patrick Cote/Edwin Dewees (TUF4 MW Final)
-Michael Bisping vs. Eric Schafer
-Din Thomas vs. Rich Clementi
-Pete Spratt vs. Jeremy Jackson
-Scott Smith vs. Pete Sell
-Charles McCarthy vs. Gideon Ray
-Thales Leites vs. Martin Kampmann

The prelim bouts will be: Spratt/Jackson, Smith/Sell, McCarthy/Ray and Leites/Kampmann.
---

Ground and Pound Drilling..
http://video.google.com/videoplay?do...72196009&hl=en
Amatuer
Join Date: Oct 2006
Location: new Jersey
Posts: 103
The TUF finale is almost a non event. They got off to a decent start. Now, it's just so boring watching these guys fight. The MWs can't beat GSP or Hughes and there is no way any of the MWs wil beat Silva or hstand a chance. It just doesn't seem like they have any "elite" unknowns coming out of TUF anymore. TUF is like a farm team for fighters who get called up to the big show. They need to make Wandei vs. Liddell happen.
---
Fedor sleeps with a night light. Not because Fedor is afraid of the dark, but the dark is afraid of Fedor.
right then, so basically whoever wins these fights will get an automatic spot on every other UFN, thats how its gonna work. This has snoozefest written all over it, my only interest is Bisping at this point
Yea im excited to see bisping knock someone out. Hopefully the other matches arent to boring. Maybee we will be suprised and there will be some great matches
Hopefully jermey jackson can stick around long enough to fight
Megaweight

Join Date: Apr 2006
Location: Everett, MA
Posts: 5,961
all i want to see is bisping, i hope cote and drago win as well
---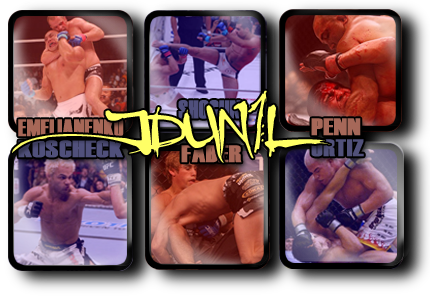 Mancrushes
1.Shogun
2.BJ
3.Fedor
4.Kos
5.GSP
Im in Porno's
damn, it's like a condensed version of tuf 4. ah well, better wasting a night's worth of time rather than an hour a week spanned over a couple months.
I'm interested to see Jeremy Jackson fight.

I think he's a good fighter just not a very smart guy.

But ya im watchn for Bisping mainly, but i think they paird alot of the fighters up well to make better fights. You gotta remember alot of those fights on TUF 4 were boring because they were playing strategy. Pete Sell vs Scott Smith should be a good brawl.
---
What is it that is going to be on your mind when you're on your death bed? Will it be the tedious years of 9 to 5, or the memory of some great acheivement. Maybe a moment you stood in glory to the applause of millions.
-Evan Tanner
true Sell vs. Smith should be interesting, looking for a big KO in that one
Currently Active Users Viewing This Thread: 1

(0 members and 1 guests)
Posting Rules

You may post new threads

You may post replies

You may not post attachments

You may not edit your posts

---

HTML code is Off

---