Amatuer
Join Date: Feb 2007
Posts: 144
Sherk Vs Guida - my mouth waters thinking about this fight, especially since the tyson vs. sherk fight.

Carwin Vs. Brock, kinda wish this fight happened before the Couture vs Brock, if brock won it would have made him seem more legit.

Franklin Vs. Machida 2, I seriously doubt it'd go the same way as their first fight.

Marquate Vs Henderson, should be awesome, though Dan could LnP this to a victory.

Marquate vs. Filho, just because i hate Filho with a passion and want to see Marquate destroy filho.
Yeah, I think Edgar would handily take otu Danzig via UD. The other 2 however are excellent matchup's, Id like to see Carwin/Velasquez and Lesnar all fight eachother.
Quote:
Marquate Vs Henderson, should be awesome, though Dan could LnP this to a victory.
Oh man I want this!! Actually I like Marquardt so much I salivate anytime they announce a fight for him, regardless of who it is against. But a match with Hendo would be great imo!
---

Gonzaga vs dos Santos - UFC on VS
Vera vs Jones - UFC on VS
Bibs vs Hansen - Dream 13
GSP vs Hardy - UFC 112
Gomi vs Florian - UFN 21
Nelson vs Struve - UFN 21
Banned
Join Date: Aug 2007
Location: banned
Posts: 0
Quote:
Frankie Edgar vs Roger Hueta--->BRAWL
Anderson silva vs LYOTO--->GAME OF CHESS
LESNAR VS KONGO --->SOMEONE THATS HIS OWN SIZE WITH GOOD STANDUP
I love these match-ups and the descriptios....although i see lesner just mauling Kongo....I mean if I'm Lesner thats my gameplan and the quick knock out.........Lyoto vs. Anderson would be sick and def a chess match and Frankie is one of my favorite Jersey Shore fighter, love his heart and he will stand all day with Huerta.......
Bantamweight
Join Date: Nov 2007
Posts: 626
you guys are fools

i want to see kalib starnes vs lyoto machida
I'd really like to see (even though I know it probably wouldn't happen) Machida vs A Silva. Ken Flo v/s Penn ( which we will probably be seeing soon) and of course GSP vs A Silva. GSP vs Hendo or Franklin would also be cool at MW. I could go on all night
---
"Existence precedes essence"
- Jean Paul Sartre
My podcast/blog:
http://lifeashumans.blogspot.com/
Funniest thing you may ever find on the internet:
www.gentlemanbob.com
or look for gentlemanbob on facebook
NPFFL: Cain Velasquez, Demian Maia, Lyoto Machida, Joseph Benavidez
Megaweight

Join Date: Apr 2006
Location: Everett, MA
Posts: 5,961
Randy vs Winner of Rampage/Wanderlei

Kenflo vs Diego at LW (winner gets BJ)

Hazelett vs Diego (grappling goodness)

And this one would be a good sloggerknocker, Sokky vs Houston Alexander
---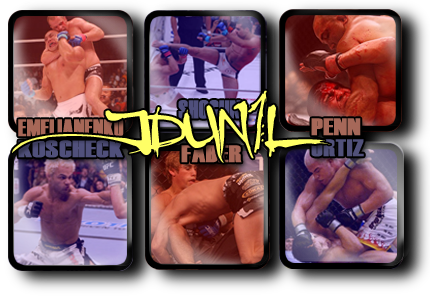 Mancrushes
1.Shogun
2.BJ
3.Fedor
4.Kos
5.GSP
Im in Porno's
Quote:
These fights are possible and I think they'd be great matchups, and exciting fights.

Who do you guys think would take these ones?

Rousimar Palhares VS Damien Maia The Jitz in this fight would be crazy fast. Palhares's BJJ is sick, and we all know that Maia can sub damn near at will.

Mac Danzig VS Frankie Edgar These guys are both well rounded with a good ground game and fast striking, they'd have a supurb shootout IMO.

Cain Velasquez VS Brock Lesnar These guys are classic knuckledraggers, they're both insanly strong and I beleive they can push eachother and test eachothers wills.

What do you guys think?
Great choices, these are my thoughts on those match-ups:
Maia/Palhares:
I'd go with my
Maia via decision
, he's a more developed mixed martial artist, whereas Toquinho has a great ground game and takedowns but not-so-much to offer with striking. I think on the ground it would be a stalemate, with Maia probably getting the nod in the stand-up.
Danzig/Edgar
: I think Frankie has crisper boxing, but Mac has a more varied stand-up style. I think Frankie would be able to take Mac down and hold him there for most of the fight (kind of like Guida did) while avoiding submission attempts.
Edgar via decision
, in a candidate for FotN.
Velasquez/Lesnar
: As of now, I think Velasquez is the more complete fighter. Brock has the wrestling advantage, but Cain simply mixes his game up better, and he has more technical striking and BJJ. I see
Velasquez
winning
via submission
.
Fights that I think would be exciting for fans:
Tamdan McCrory/Dan Hardy
Luis Cane/Thiago Silva
Tyson Griffin/Roger Huerta
Dustin Hazelett/Akihiro Gono
---
Last edited by Fedor>all; 11-18-2008 at

03:24 AM

.
Lightweight

Join Date: Mar 2008
Posts: 1,655
My 3 fights.

1. Anderson vs Wand
2. Gonzagha vs Brock
3. Huerta vs Edgar
MMA Fanatic
Join Date: Jul 2007
Location: New Jersey
Posts: 18
I think Edgar is Garbage people need to stop thinking he is the greatest ever Here are the 3 I would like to see

Couture Vs Machida

GSP Vs Bisping (Catch Weight)

Brock vs kimbo slice

Watcha think??
---


RAMPAGE!!!!!!!
Currently Active Users Viewing This Thread: 1

(0 members and 1 guests)
Posting Rules

You may post new threads

You may post replies

You may not post attachments

You may not edit your posts

---

HTML code is Off

---