View Poll Results

: Sean Sherk : Love or Hate?

Love him
24
42.11%
Hate him
8
14.04%
Dont Really Care
25
43.86%
Voters: 57. You may not vote on this poll
CD's Love-Hate Station: Sean Sherk.
---
Ok this is easy, vote and give your explanations :P

Obviously Hate and Love are big words, but you get the idea from it, if you strongly dislike the guy vote in hate, if you like him a lot and want to see him win and do well just share the love.

if the response to the thread is good, ill make him a weekly thing.

So for now, it's all about Sherk, poll runs 6 days.


Personally i like the guy a lot, i would love for him to build himself back into a title shot.
---
Last edited by Chileandude; 11-25-2008 at

11:35 PM

.
i like sherk.. hes a machine.. so much cardio and a nuts wrestler..

i also respect the amount of work he puts in for fights..
---
Shogun is my homeboy.
I feel bad for the guy. He is still getting booed by people because they hear of his "scandle" but they don't know all the facts. From everything I have read, it sounds like his whole case was poorly handled, so I have a harder time immidiatly distrusting and hating the guy. Part of me truly believes Sherk, but I guess we will never really know. Either way, the guy did his time, he's back, and he's still an exciting contender.
Banned
Join Date: Jun 2006
Posts: 4,466
I didn't like him before the steroid case. He is a boring fighter (trying to get better) that takes his opponent down and just lays on them till the fight is over. It's been 3 years or more since he has actually won a fight by stoppage. He just likes to rely on his strength and hold people down. He is a good wrestler, but thats it. He has been working on his striking and using it more and thats good, I hope he keeps it up. I just hate when people take the fight to the ground and do NOTHING while down there other than move in circles the whole time.
I respect his dedication to the fight game. He obviously works very hard and is a fantastic wrestler and seems to have a lot of heart. I absolutely rank him a top 10 LW even after his loss to Penn.

However I agree with others that I personally find him very boring and just cannot cheer for the guy.

Therefore I vote "dont care"
---

Gonzaga vs dos Santos - UFC on VS
Vera vs Jones - UFC on VS
Bibs vs Hansen - Dream 13
GSP vs Hardy - UFC 112
Gomi vs Florian - UFN 21
Nelson vs Struve - UFN 21
Arguably one of the hardest training athletes on the planet, Sean Sherk is a man to be admired by all. Great wrestling, good boxing, good bjj, great chin, and great cardio. Gets ripped on for testing positive from a bullsh#t athletic commission, despite having urine samples sent to other doctors come back clean.
LOVE HIM
Lightweight

Join Date: Oct 2006
Location: Vancouver BC
Posts: 1,981
I used to hate the guy.
Im sure Aaronyman can attest to that that... as I used to debate this with him... that was then...
This is now.

The guy is respectful and hardworking.
He has mad skills and I respect him more now than ever before.

I used to loathe the mere mention of him... now I cant wait for him to fight next. He won me over as a fan.
Despite the fact Im bothered by the suspicions of steroid abuse the fact is its hard not to like the guy considering he puts 110% into his training and his fights, he consitantly improves and wants to prove himself against the top competition, so basically despite the stains the steroid scandal leaves on his reputation I think its impossible not to like the guy.
---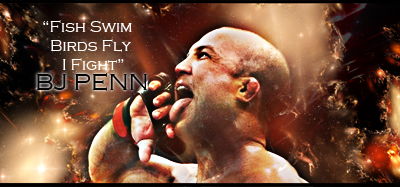 "If you get hit and it hurts hit him back you not knocked out yet."-Joe Doerksen
The Toxic Terrors (FFL)
Demetrious Johnson*Eduardo Dantas*Emanuel Newton*Will Brooks*Michael Page
I think if you asked anyone who the top three lightweights are it would be hard to argue,
BJ
Kenny
Sean...

Of the three Sean I think is the classiest, proabably the hardest working which is saying a lot about Sean cause BJ and Kenflo are work horses too, and definitely has the most impressive record. With only three losses coming from Hughes, BJ, and GSP the guy has nothing to be ashamed of.

As for the "Scandal" there are so many performance drinks, pills, supplements hitting the shelves everyday... it's very easy for illegal substances to find their way into fighters without them even knowing it.
Banned
Join Date: Dec 2006
Location: England
Posts: 1,656
I hope you mean the best three LWs in the UFC cos now way are Kenflo and Sherk top 3 LWs worldwide, it's arguable that Sherk isn't even top 3 in the UFC TBH.

I've never really cared for Sherk, I disliked him a lot through the steroid scandal thing but gained a lot of respect for him regarding the manner in which he took the loss to BJ.

I voted don't care basically because his fights are pretty much unwatchable, he focuses way too much on TD's and control and does little or no damage to his opponents for pretty much the whole fight. Passing someones guard about 10 times per round is only effective if you do something with your new position but Sherk seems happy enough to just lay in half guard/side control delivering little rabbit punches.

It was funny at the UFC 84 post fight press conference when Sherk said he didn't even know what BJ hit him with that rocked him so bad (knee) and BJ told him it was a spinning kick.
Currently Active Users Viewing This Thread: 1

(0 members and 1 guests)
Posting Rules

You may post new threads

You may post replies

You may not post attachments

You may not edit your posts

---

HTML code is Off

---