Banned
Join Date: Aug 2007
Location: banned
Posts: 0
Quote:
Really? I don't see how Horn has the same chance as Hendo did.
Well its pretty known that Pallhares is extremely scary on the ground...thats clear by the respect Danny showed him, never getting caught up....
A far as Pallhares standing and exchanging with Horn I like Horns chances and i think if Horn implements the same strategy to avoid Pallhares take down (or even if Pallhares tries pulling guard) I think he can beat him in the same way Hendo did...maybe not look as good but the risk of getting caught up with Pallhares is very real for Horn.....therefore, I am lookin forward to this...
ron jeremy... err... jeremy horn has lost his last three fights via submission.

Is horn jewish? Cause I sense a crucifix.
---
If a law is unjust, a man is not only right to disobey it, he is obligated to do so. ~ Thomas Jefferson
Sig by D.P.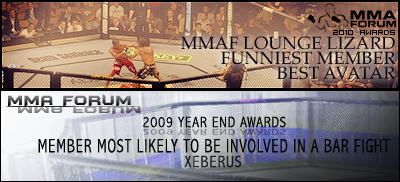 Palhares by sub, Horn has no where near the wrestling pedigree that Hendo does, and even he got taken down by palhares
Banned
Join Date: Oct 2008
Location: California, USA
Posts: 286
This is sad.They always bring in horn to make someone look good.I'll still be rooting for horn though
Horn is one of those guys who I feel that as an mma fan, I'm obligated to like. Probably just because he's been around for a while.

But I really don't like watching him. I'll leave it at that.
Horn has actually been training for this fight, I think he will have a better showing then his last 2 fights.

WAR HORN
Palhares via submission. I know Jermey has crazy jitz, I just don't think he should take it there with Toquino.
---
_RIVALS TOP 10

ANDERSON "THE SPIDER" SILVA
JAKE SHIELDS
NICK DIAZ
EDDIE ALVAREZ
JUNIOR "CIGANO" DOS SANTOS
GILBERT MELENDEZ
MAMED "THE CANNIBAL" KHALIDOV
HECTOR "SHANGO" LOMBARD
CAIN VELASQUEZ
GEGARD "THE DREAM CATCHER" MOUSASI

With the way things are going the loser of this fight will likely be cut.
---
"Nothing like a strangulation to get the circulation going."
Dont be too surprised if you see Palhares stand up and take the fight via strikes, Horn hasnt got the power to KO Palhares and realistically only gives a small level of threat to somebody of Palhares level on the ground, i really think P'hares has taken on his shortfalls in his standup against Hendo and will prove a point against Gumby within 2 rounds.
---
TEAM GROTTY 2013
Stefan Struve
Donald Cerrone
Glover Texiera
Cub Swanson
Kim Dong - Hyun.
Currently Active Users Viewing This Thread: 1

(0 members and 1 guests)
Posting Rules

You may post new threads

You may post replies

You may not post attachments

You may not edit your posts

---

HTML code is Off

---