Amatuer
Join Date: Oct 2006
Posts: 128
Another reason why I like forums like this. You get the hook-up.

Thanks for the UFC contract link, screenamesuck.
Man, after looking at those forms... back in those days... when it was all the independent forms of fighting. I can't imagine getting into that cage without first saying this prayer and meaning "as i walk through the valley of the shadow of death I will fear no evil, because I am the baddest mother****er in the goddamn valley"
---
If a law is unjust, a man is not only right to disobey it, he is obligated to do so. ~ Thomas Jefferson
Sig by D.P.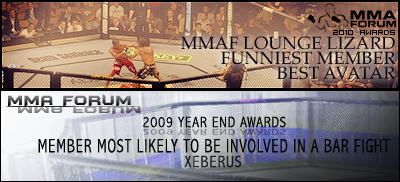 MMA Fanatic
Join Date: Jul 2007
Location: BurnCity, Australia
Posts: 24
Quote:
You know I can't recall much groin hits in the early UFC but someone was telling me about a match they saw where a guy had a guy down and punched him in the groin like 10 times. Does anybody know what match that may of been?
UFC 4
Joe Son vs Keith Hackney
Wow, pretty cool to see that. I don't really have much else to say, and the threads that are being replied to are pretty thin. Plus I broke into my stash of microbrews (well, actually Miller Genuine Draft) while I am waiting for my wife to get home so we can go party in town.

Damn, there needs to be more UFC events so we have more to talk about.

PLus: That image of keith hackney blasting Joe Son in the balls over and over is forever burned into my retina's. I remember me and my roomate just laughing over and over and rewinding the video tape to watch in slow motion!!!
---
Last edited by randyspankstito; 11-29-2008 at

11:34 PM

.
Currently Active Users Viewing This Thread: 1

(0 members and 1 guests)
Posting Rules

You may post new threads

You may post replies

You may not post attachments

You may not edit your posts

---

HTML code is Off

---