Banned
Join Date: Jul 2007
Location: Backseat of the PlazzVan
Posts: 6,472
Where do we see him in his division?
---
A lot of Diaz hate on the forum but it's understandable, people don't like the way they act.I personally like Nick and Nate but where is Nate in the LW division?
He has solid wins and has stepped up his competition in his last couple of fights.
Looking back before he got in TUF he had his fight against Franca in the WEC and he was winning that fight up until getting caught in the armbar.
Then he goes through TUF and subs Emerson, Hill, and Maynard. Then at the TUF finale he fights Gamburyan and loses the first round but then Manny gets hurt so Nate wins.
Then he goes on to sub Assuncao and Robinson.
Next up was Pellegrino, Nate gets beat up in the first and then catches the triangle in the second.
Fights Neer and does pretty good getting a split decision though I thought he won it 29-28.
He has good subs, great cardio, can take a beating, improving standup (though not powerful), subpar wrestling, and good throws.
Where do you see Nate, how does he stack up against other LW's and who should be next for Nate?
Is it safe to say he's a poor mans Big Nog?
---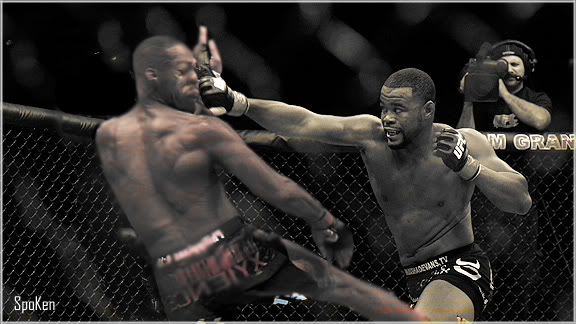 Sweet sig by Life B EZ
I feel like I get paid way to much money, but not enough -Nick Diaz
The guy has skills, and is surprisingly tough as nails. Although, there is something about him that still seems green. Maybe it's the fact he starts slow, maybe it's his striking, which is improving, I can't seem to pinpoint it. Either way, if he continues to improve as he has, he will probably get a title shot by the end of the next year.
I hate him, but his next match deserves to be against a top 5 LW. After that match, I will tell you whether or not he desrerves a title shot or not. (******* Diaz brothers....)
---

Super Heavyweight
Join Date: Feb 2008
Posts: 4,079
i ******* love diaz brothers... hope he gets someone from top 10
Banned
Join Date: Apr 2007
Location: Montclair, NJ
Posts: 11,605
Nate is very skilled however he IMO won't be a top LW.

He's a great guy from his guard but I don't see him beating any of the top wrestler/grappler/boxers hybrids. Griffin, Edgar, and Sherk IMO will be too much for him.

Florian IMO is better as well and BJ obviously.

However he is very good.
I think he should fight Rick Clementi for some reason. Dont ask why
Banned
Join Date: Apr 2007
Location: Montclair, NJ
Posts: 11,605
I think Ty Grif vs Nate makes sense with Ty coming off a loss to one of the top of the division guys but still being higher ranked then Nate.

Or Frankie Edgar if he beats Wiman but honestly we kinda just say Frankie vs Nate with Frankie vs Hermes.
i love the 'improved striking'...his striking was horrific, and not it's only bad....you should be a columnist
Currently Active Users Viewing This Thread: 1

(0 members and 1 guests)
Posting Rules

You may post new threads

You may post replies

You may not post attachments

You may not edit your posts

---

HTML code is Off

---