Lightweight

Join Date: Mar 2008
Posts: 1,655
Quote:
It is no huge secret all the fighters juiced in PRIDE. If anyone believes different your just being a fool.
I wasn't saying that they didn't juice.
This thread is getting really off topic.
Wandy doesn't like Rampage because "I looked at him and he no look at my eye" lol Wandy quotes are the best
---
*_*_*_*_*_UFC FANTASY TEAM*_*_*_*_*
Wanderlei Silva
Evan Tanner
Kenny Florian
Alan Belcher
Alessio Sakara
Quote:
B/c RAmpage talked mad shit about Wandy, and always called him ugly, talked about how he's gonna knock him out, etc. Then, after Rampage beat someone(forget who) he called out Wandy saying to give him "his belt" which resulted in Wandy coming in and saying "MAH BELT" and pushing him all crazy-roidrage-like.
It was after he beat Kevin Randleman.
It's just a general lack of respect, as people have said like calling him ugly. Disrespecting him after his 1st win....talking on a cell phone during the Brazilian national anthem.....i thought that was just awful
Alright i can kinda understand why Wandy and Rampage dont like each other but how come CroCop dosent like wanderlei either??
---
"If You Ain't Cheating, You Ain't Trying" - Tito Ortiz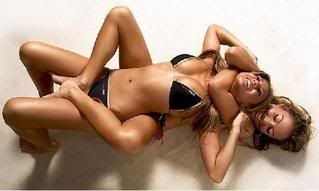 I'm sure Rampage saying Wandy had "cauliflower face" didn't help either
---
FAVORITE FIGHTERS


LW-Guida
WW-Hughes
MW-Hendo
LHW-Shogun
HW-Fedor


"Hope dies last"
Lightweight

Join Date: Mar 2008
Posts: 1,655
I now know why Wand hates him. haha
Can't say I'd be too fond of someone calling me ugly, and constantly talking shit about me all the time, even when I handled them not just once, but twice.
This could very well be FotY.
Quote:
I'm sure Rampage saying Wandy had "cauliflower face" didn't help either
LMFAO..That is rude and funny at the same time...
edit: I just watched that vid of him cursing at Wanderlei and what not and that is more than enough reason for Wandy not to like Rampage. But what hurt worse those words or the knees that had Rampage teetering between the ropes...But I don't know when that video was made and in his latest interview Rampage was clearly nothing like that.
---
Last edited by towwffc; 12-01-2008 at

08:13 PM

.
MMA Fanatic
Join Date: Feb 2007
Posts: 6
idiots, rampage straight up talked mad shit about him in a taped video, which you can find on youtube, where he says quote "I think wanderlei is a ******* coward"...page is the sore loser here.
Currently Active Users Viewing This Thread: 1

(0 members and 1 guests)
Posting Rules

You may post new threads

You may post replies

You may not post attachments

You may not edit your posts

---

HTML code is Off

---