Megaweight

Join Date: Apr 2006
Location: Everett, MA
Posts: 5,961
Diego to 155 (source)
---
---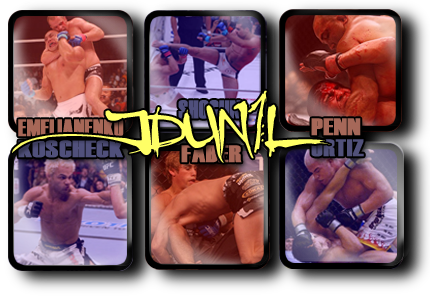 Mancrushes
1.Shogun
2.BJ
3.Fedor
4.Kos
5.GSP
Im in Porno's
Great move for Diego, look at how well Kenny is doing down there.
Diego I think might be able to actually beat BJ. Even if he loses, he would make BJ have an incredibly though time, because BJ ain't subbing Sanchez. The only people I think he would have a lot of trouble with is Sherk and Florian and BJ, but I actually think his best chance is against BJ out of all of them (oddly enough).
---
Forum Bets: 2-0
__________________________
Middleweight
Join Date: Jul 2008
Location: Iowa
Posts: 2,615
I hope he does move to this weight that would be fricken awesome

Join Date: May 2007
Location: -England-
Posts: 1,475
Heard this a few times before and it's not happened still cant see how KOS is getting alot more chances then Diego at 170 when Diego would in my opinion tko him,in a rubber match, but he knows better than anyone what weight he should fight at.
what alves did to kos probably scared the shit out of him

diego vs. sherk....wow...that would pretty much be amazing...both need a fight and diego's rep at 170 should launch him into the elite at 155....probably 2 fights from a title shot....make it happen joe silva
Wow. Diego at 155??? Holy crap.
He's gonna be a huge LW. I'm still finding it difficult to picture him as a LW though. I mean, thats a massive weight cut. We'll see if its going to affect him.
---
Last edited by kc1983; 12-04-2008 at

05:34 PM

.
Bravo, smart move IMO. Like people already stated in the thread, 170's too dangerous and risky for him, with GSP, Alves, Fitch, and even BJ who might be there after the superfight. Definitely love to see a rematch against Florian.
On a sidenote, I'd like to see Serra drop to 155................after he gets his ass handed to him by Hughes
---
"Right kick; hospital, left kick; cemetery" - Mirko "Cro Cop" Filipovic
This is a pretty good move. For once, he will be one of the bigger guys in his division which was his only weakness when he fought at 170. If you thought his chin was good at 170, imagine it at 155. I don't see anyone really hurting him.

I think he can take Edgar, Griffin, Diaz, Guida, Franca, Maynard, Stevenson, Pellegrino, Florian, etc.

I believe he would beat Sherk but, that would be a great fight.

BJ Penn is the only guy that he probably won't beat in my opinion.
---
Psalm 30:5 "For his anger endureth but a moment; in his favour is life: weeping may endure for a night, but joy cometh in the morning."

Top 3 Favorite Fighters
1. Chuck "The Iceman" Liddell
2. Glover Teixeira
3. Demian Maia
---
Last edited by Stapler; 12-04-2008 at

05:36 PM

.
Diego at 155 is scary.
---
Fedor fights I want to see..
Fedor vs. Josh Barnett
Fedor vs. Randy Couture
Fedor vs. Tim Sylvia -
DEMOLISHED
Fedor vs. Andrei Arlovski -
DEMOLISHED
hmmmmm, i wonder how many become reality..
2007
Currently Active Users Viewing This Thread: 1

(0 members and 1 guests)
Posting Rules

You may post new threads

You may post replies

You may not post attachments

You may not edit your posts

---

HTML code is Off

---