Amatuer
Join Date: Nov 2008
Posts: 102
I would be interested in watching the rematch, but I don't think it makes much sense. Chuck needs to win a fight or two & get back to his winning ways before he can consider avenging his losses. Jardine, IMO, wouldn't really want this fight right now, as this victory over Chuck really bolstered his resume and I don't think he would want jeopordize that until he has some more quality wins and is able to prove his consistency in the eyes of the fans (and Dana). So while I think it would still be a good fight and either fighter could win it (I think Jardine may have the edge at the moment until Chuck can change up his game a little), I just don't think the timing is right yet for a rematch.
Megaweight
Join Date: Mar 2007
Posts: 5,499
I think the fight against Evans showed that Liddel hasn't changed his game up. The real reason he lost to Jardine was because he had no defense, the leg kicks just slowed him down. At the end of the fight Jardine had clearly landed more punches than Chuck, and I really don't think that will change. Chuck's style for so long was "I'll take a punch and KO you for it" but now he is running into people who that style isn't working against.

I have 0 interest in seeing II.
Jardine needs to finish fights again. Last time he did that Forrest's head went through the canvas.

Same result IMO. This time Jardine might finish Liddell with leg kicks or a looping hook.
Banned
Join Date: Apr 2007
Location: Montclair, NJ
Posts: 11,605
I'm down for this they both have looked like crap lately so this is a good chance for them to come back.

I think Jardine would win this because MMA has figured out how to beat Chuck and Jardine is the perfect guy to do that.
Quote:
chuck's still decent fighter but i dont see him beating jardine, the only reason why chuck was so dominant back then is cuz he was mostly fight wrestlers.
Quoted For Truth.
attention whore
Join Date: Oct 2006
Location: Branson, Missouri
Posts: 14,445
Yikes, Jardine missed every one of those shots in that gif.

It'd be a solid co-main event. Chuck's still a name.

Jardine would beat him again, because Chuck wouldn't be able to deal with leg-kicks or body kicks. He hasn't been able to deal with them for a while now, and I don't see that changing. Hell, Jardine may finish him.
---
Quote:
Xerxes, I think Chuck vs. Jardine 2 on it's own wouldn't do well...but as a co-main event could turn a good card like GSP vs. Alves or Brock vs. Nog into a supercard pretty easily...
When debating whether a fight would sell or not, you have to consider it on its own. How much would this one fight on its own contribute to the overall PPV buys? My point was it would contribute less/sell less than Chuck vs. a top 5/10 contender in the division, for the reasons I explained in my previous post. Chuck/Jardine rematch wouldn't make much sense IMO.
GSP/Alves + Chuck/Jardine 2 or Brock/Nog + Chuck/Jardine 2 on the same card would do well for sure, but IMO the card would do much better if Chuck was fighting another "big name" in the division.
Banned
Join Date: Dec 2006
Location: England
Posts: 1,656
Quote:
chuck's still decent fighter but i dont see him beating jardine, the only reason why chuck was so dominant back then is cuz he was mostly fight wrestlers.
Quoted for BS.
It's so ridiculous how people keep saying this when it obviously isn't true. Yeah Chuck fought a lot of wrestlers but the best 205ers in the UFC then
were
wrestlers so it's not like he was being fed easy fights.
Besides Chucks beaten several very good strikers comperhensively over the years. He had a really good fight with Mezger and ended up finishing him, stopped Overeem in the first in a pretty competitive fight and Alistairs a really good diverse striker. He's also got decisions over Belfort (back when Vitor was still decent and Chuck completely outstruck him) and Wandy even though Wand looked pretty bad in that fight so I don't really get where this myth about Chuck
only
fighting wrestlers comes from TBH.
Chucks still a good fighter and is starting to get a bit underrated on here (never thought I'd say that) but TBH I'd still give Jardine the edge.
Chucks never dealt with leg kicks well, even in his early fights he just seemed to like soaking them up and while he can catch Jardine at anytime Keiths a real tough fighter and Chucks gonna have to really hurt him to finish him IMO. Not to mention Keith matches up pretty well with Chuck cos he knows he's not getting pressured and would work his herky jerky style to outpoint Chuck for another UD. I'd still be rooting for Liddell by KO though.
First post as Premium member!

Anyways, I seriously doubt Chuck could win a rematch unless he completely changes the way he fights. Greg Jackson has him down to a science. He's pretty sloppy, just very heavy handed.
---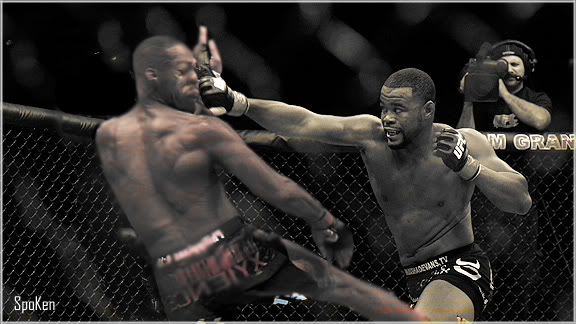 Sweet sig by Life B EZ
I feel like I get paid way to much money, but not enough -Nick Diaz
MMA Fanatic
Join Date: Dec 2008
Posts: 19
It makes sense in that Jardine beat Chuck, Wandy beat Jardine, and Chuck beat Wandy.

**** it why not?
Currently Active Users Viewing This Thread: 1

(0 members and 1 guests)
Posting Rules

You may post new threads

You may post replies

You may not post attachments

You may not edit your posts

---

HTML code is Off

---