Banned
Join Date: Jan 2007
Location: east san jose
Posts: 98
Quote:
It makes sense in that Jardine beat Chuck, Wandy beat Jardine, and Chuck beat Wandy.

**** it why not?
cuz dana with chuck is all about money now... chuck should face the winner of the heavy weight champ tourny for the title?? .....why the title??....well if brock could do it, then why not chuck??
Megaweight

Join Date: Apr 2006
Location: Everett, MA
Posts: 5,961
Eh, I wanna see new fights. Chuck vs Bonnar would be fun. Vera has always wanted to fight Chuck. I think these 2 fights are far more likely.
---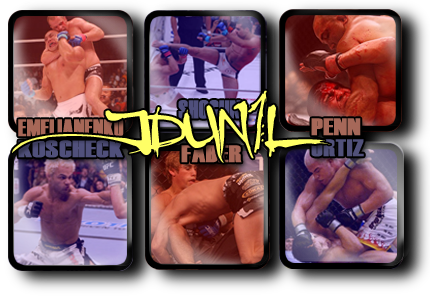 Mancrushes
1.Shogun
2.BJ
3.Fedor
4.Kos
5.GSP
Im in Porno's
Quote:
i really want to jardine to fight silva again, cuz i truly believe he can beat him if he employs the right gameplan, which is to take wanderlei down....he gave us a sneek peak against vera of what he's capable of on the ground...he can avoid sub's and get some nice GnP...in fact, in his fights against Wilson and Forrest he was on top of them at one point and unleashed bombs on their faces....

Xerxes, I think Chuck vs. Jardine 2 on it's own wouldn't do well...but as a co-main event could turn a good card like GSP vs. Alves or Brock vs. Nog into a supercard pretty easily...
dude srsly like that other dude said "the **** choke gave me nightmares"
---
If a law is unjust, a man is not only right to disobey it, he is obligated to do so. ~ Thomas Jefferson
Sig by D.P.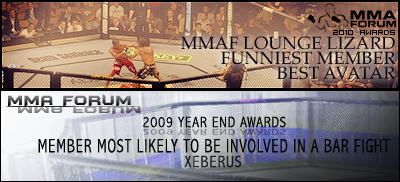 Light Heavyweight

Join Date: May 2007
Location: Melbourne, Australia
Posts: 3,474
I am really not that interested in Jardine vs Chuck 2. Move to HW Chuck, it will amuse me.
Currently Active Users Viewing This Thread: 1

(0 members and 1 guests)
Posting Rules

You may post new threads

You may post replies

You may not post attachments

You may not edit your posts

---

HTML code is Off

---