Wilson Gouveia will he finally break out?
---
This guy is a huge talent who is supposedly the most skilled at ATT a camp with JZ Calvancanti and Thiago Silva.

But he's never been able to thrive. He was ready to break out and then he ran into Goran.

He's finished all his wins and his two losses one was close and the other was a questionable decision.

Now he has a chance to beat Jmac and really break out what do you guys think will he?
I think he will lay it on real thick against J-Mac and show us why a couple peeps on hear consider him legit. The Goran fight was rough, but I think Goran is goin to have a bright future also.
Honestly his gas tank is his biggest problem he put both Jardine and Reljic in trouble in those fights.

Gouveia could IMO be a top 10 MW if he gets his sh*t together.
Quote:
Gouveia could IMO be a top 10 MW if he gets his sh*t together.
Easliy, as far as I was concerned he was well on his way to a top 10 LHW position up until Goran finished him.
The MW division is finally starting to show some depth.
Yea MW is kinda loaded actually.

Wilson does need to improve his defense in his guard though because he has good subs but he gets pounded on when fights hit the ground.
attention whore
Join Date: Oct 2006
Location: Branson, Missouri
Posts: 14,445
Man I hope so. Gouveia has a ton of talent, and once he puts it all together, he will be a force in the MW division. He's ridiculously well-rounded.
---
Sick leg kicks, Powerful Hands, slick submissions he has everything just some defense and a gas tank and this guy will beat on almost everyone.
I am really hoping he does well at MW but he is dang exciting to watch. I think he will be successful
---

Gonzaga vs dos Santos - UFC on VS
Vera vs Jones - UFC on VS
Bibs vs Hansen - Dream 13
GSP vs Hardy - UFC 112
Gomi vs Florian - UFN 21
Nelson vs Struve - UFN 21
its hard for me to respect someone who gasses in or just after the first round.

he has skill, but it doesnt mean shit with a weak gas tank.
---
If a law is unjust, a man is not only right to disobey it, he is obligated to do so. ~ Thomas Jefferson
Sig by D.P.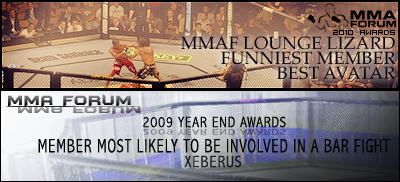 I rewatched most of his fights just now and it's amazing how skilled he is. The guys also one of the cockiest funniest quote machines in the UFC.

Wilson with a gas tank might be a guy who could challenge Anderson.
Currently Active Users Viewing This Thread: 1

(0 members and 1 guests)
Posting Rules

You may post new threads

You may post replies

You may not post attachments

You may not edit your posts

---

HTML code is Off

---