Newcomer Denis Stojnic to face Velasquez at UFN 17
---
Quote:
Originally Posted by mmajunkie
Bosnia and Herzegovina-based UFC newcomer Denis Stojnic (5-1 MMA, 0-0 UFC) will meet highly regarded UFC heavyweight prospect Cain Velasquez (4-0 MMA, 2-0 UFC) in February at UFC Fight Night 17.
The event takes place Feb. 7 at the USF Sun Dome in Tampa, Fla.
An official from Spike TV, which airs the night's main card, today confirmed with MMAjunkie.com (
www.mmajunkie.com
) the Stojnic-Velasquez fight will be part of the broadcast.
The UFC today officially announced the event, including the Stojnic-Velasquez fight. Hermes Franca meets Joe Lauzon in the night's main event.
Tickets for the show, which is the UFC's first in Tampa, go on sale to the UFC's fan-club members on Saturday, Dec. 20. The public on-sale date is Monday, Dec. 22.
Stojnic, who turned pro in 2005, has fought on the European circuit and has posted decision wins in four of his five career victories. The lone loss came to Jessie Gibson (6-1). The 28-year-old, nicknamed "The Menace," is the first UFC signee from Bosnia and Herzegovina. He trains in Holland with Golden Glory.
After first-round TKO victories at an October 2006 Strikeforce event and a December 2006 BodogFIGHT show, Velasquez had trouble finding opponents who were willing to fight him. So, he signed with the UFC earlier this year. Velasquez made his octagon debut in April and defeated Brad Morris via first-round TKO. Three months later, he did the same to Jake O'Brien.
Velasquez has posted four first-round TKO victories in four career fights. The average time per victory is just two minutes and 33 seconds.
It'll be Velasquez's first fight since a recent clash with UFC management over a video-game agreement that nearly forced the fighter -- and his AKA teammates -- out of the UFC.
Source:
http://mmajunkie.com/news/13513/ufc-...t-night-17.mma
I hope this is on the main card and Velasquez takes this.
---
[
I can't bet against Cain right now. He has an impressive game and is very powerful. He's the Dark Horse in the UFC HW division right now in my opinion.
---
_RIVALS TOP 10

ANDERSON "THE SPIDER" SILVA
JAKE SHIELDS
NICK DIAZ
EDDIE ALVAREZ
JUNIOR "CIGANO" DOS SANTOS
GILBERT MELENDEZ
MAMED "THE CANNIBAL" KHALIDOV
HECTOR "SHANGO" LOMBARD
CAIN VELASQUEZ
GEGARD "THE DREAM CATCHER" MOUSASI

Personally I'd rather see Velasquez fight someone better, and not a newcome, but meh.
---
What a stud
Quote:
The power of Aleks, his small baby and pimp hardcore dogs has granted you useful insight, my friend.
Yeah, had a feeling they might give him a newcomer.

Ya better be training takedowns Mr.Stojnic.
Banned
Join Date: Apr 2007
Location: Montclair, NJ
Posts: 11,605
Man well this match up is a bummer.

Hopefully Cain keeps this on his feet and shows off some striking. Or at least works his submissions when he takes him down since his Wrestling and GnP have both already looked excellent.
Yes, another HW signing. Finally the UFC is beefing up the HW division. I'm really looking forward to this fight.
---
"Nothing like a strangulation to get the circulation going."
Rangers rule
Join Date: Nov 2007
Location: Glasgow, Scotland
Posts: 2,330
Dunno anything about this guy but putting him up against Cain right away tells me they are trying to build Cain up as the next big thing, I bet ya after Cain KO's his next two opponents he will be given Herring then a title shot.
---

Thanks to Plazz for the awesome sig
http://www.mmaforum.com/hall-fame/47...-plazzman.html
Show him respect
Banned
Join Date: Apr 2007
Location: Montclair, NJ
Posts: 11,605
He does train at golden glory which means his kickboxing should be legit.
this is retarded. they should give him Kongo or Herring or something like that. And on a fight Night card
ps.
am i the only one that thinks velasquez resembles the early belfort ?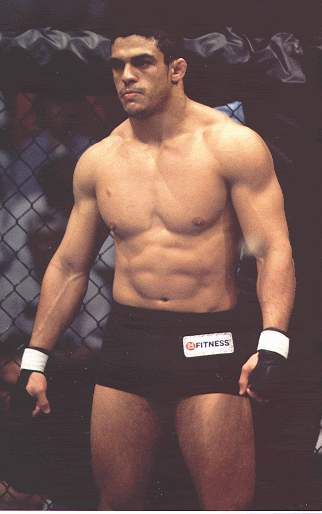 ---

Kovalev - Golovkin
---
Last edited by N1™; 12-19-2008 at

11:01 AM

.
Quote:
Personally I'd rather see Velasquez fight someone better, and not a newcome, but meh.
Same here. Maybe he will get the loser of Mir/Big Nog? Either way, its just happy to see he's scheduled for something.
And yes J.P., he is definitely the dark horse in the HW division
Currently Active Users Viewing This Thread: 1

(0 members and 1 guests)
Posting Rules

You may post new threads

You may post replies

You may not post attachments

You may not edit your posts

---

HTML code is Off

---