UFC 94 card confirmed, Fitch on the undercard
---
Quote:
Originally Posted by mmamania
Ultimate Fighting Championship (UFC) today confirmed several bouts for its humongous pay-per-view (PPV) event scheduled for Super Bowl weekend at the MGM Grand Garden Arena in Las Vegas, Nevada, on January 31, 2009.

UFC 94: "St. Pierre vs. Penn 2″ features the welterweight superfight between former 170-pound champion and current lightweight kingpin BJ Penn versus reigning welterweight champion Georges St. Pierre, as well as the highly anticipated showdown between light heavyweight unbeatens Lyoto Machida and Thiago Silva.

The mega card also includes the returns of Stephan Bonnar and Karo Parisyan from respective injuries that kept them out of action for several months apiece.

And former number one contender Jon Fitch — who just headlined UFC 87: "Seek and Destroy" opposite St. Pierre — will look to get back in the title chase when he takes on Akihiro Gono in a fight that is not guaranteed to be televised.

That doesn't make much sense — perhaps the card is just that stacked or it's retribution for the 24-hour contractual fracas the went down last month.

Here is the complete UFC 94 line up:

Main event:

UFC Welterweight Champion Georges St. Pierre vs. UFC Lightweight Champion B.J. Penn in a 170-pound title bout

Main card (Televised):

205 lbs.: Lyoto Machida (13-0) vs. Thiago Silva (13-0)
205 lbs.: Stephan Bonnar (11-4) vs. Jon Jones (6-0)
155 lbs.: Nate Diaz (10-2) vs. Clay Guida (24-9)
170 lbs.: Karo Parisyan (18-5) vs. Dong Hyun "Stun Gun" Kim (11-0-1)

Under card (May not be broadcast):

170 lbs.: Jon Fitch (17-3) vs. Akihiro Gono (29-13-7)
155 lbs.: Manny Gamburyan vs. Thiago Tavares
155 lbs.: Chris Wilson (14-4) vs. John Howard (10-4)
265 lbs.: Jake O'Brien vs. Christian Wellisch
170 lbs.: Matt "No Regard" Arroyo (3-2) vs. Daniel Cramer (0-0)
Source:
http://mmamania.com/2008/12/22/ufc-9...penn-2-jan-31/
I would rather see Fitch/Gono then Parysian/Kim on the main card
---
[
I'd rather see Fitch/Gono than Bonnar/Jones, to be honest.
Banned
Join Date: Jul 2007
Location: Backseat of the PlazzVan
Posts: 6,472
Good to see Nate on a ppv finally.
Id rather see jon fitch on the main card then nate diaz and clay guide or stephan bonner vs jon jones. I hate Dana... is he really putting him on the undercard because they had that contract dispute??? what a dick head.
Quote:
I'd rather see Fitch/Gono than Bonnar/Jones, to be honest.
I'm pretty sure anyone sane human being would. If Fitch's fight is on the undercard for real, that's pretty stupid.
---
What a stud
Quote:
The power of Aleks, his small baby and pimp hardcore dogs has granted you useful insight, my friend.
Bantamweight
Join Date: Nov 2007
Posts: 626
Fitch and Wilson on the undercard... I hope they have good finishes so we actually get to see their fights on PPV
what the freakin' holy cow mother of jesus!?

In what f#&%ing way does this make sense?
---
Official Leader of the Demian Maia Subway Station!

Dustin Hazelett - I'm McLovin' it

"The second he hits me, I will crush him!" - WAND (WAR)
Fitch on the undercard? Damn.. Dana HAAAAAAAAATES Fitch.
---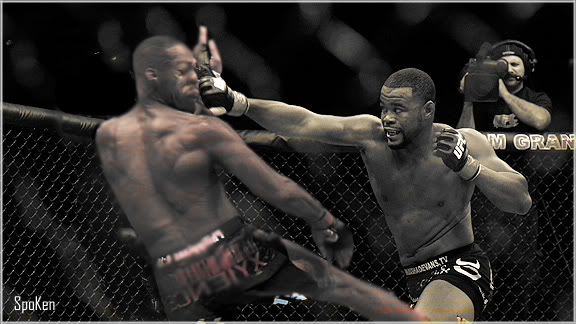 Sweet sig by Life B EZ
I feel like I get paid way to much money, but not enough -Nick Diaz
wow I cant believe they are doing this. Fitch showed so much heart in his fight with GSP and didnt even say anything when it took him 8 fights to get a title shot. I mean I would much rather see him fight than bonnar. The bonnar/jones fight does not interest me whatsoever
---
Team Link Member

NPFFL: Evan Dunham, Daniel Cormier, Jim Miller, Cole Konrad
I guess Fitch is getting penalized for this video game BS. They should invert Karo/Kim with Fitch/Gono imo.
Currently Active Users Viewing This Thread: 1

(0 members and 1 guests)
Posting Rules

You may post new threads

You may post replies

You may not post attachments

You may not edit your posts

---

HTML code is Off

---