Banned
Join Date: Apr 2007
Location: Montclair, NJ
Posts: 11,605
Yea I'm not a fan of Lyoto but if Tito wants to complain he should give Wanderlei the win for when he ran and lied on him.
Quote:
Final time, Machida doesn't run; nobody ever said Liddell ran in his last great run. Running = Tito vs Vanderlei
That reminds me, how can you say you didn't think you did that bad when you got taken down by Lyoto Machida? You're a ****ing wrestler tito, being taken down by Machida should have you hanging your head in shame for the rest of your natural life.
Even though his comments here are retarded...lately I am kinda starting to like Tito. You know, the way you like and feel sorry for Michael on The Office. I feel the same way about Tito.
---

Gonzaga vs dos Santos - UFC on VS
Vera vs Jones - UFC on VS
Bibs vs Hansen - Dream 13
GSP vs Hardy - UFC 112
Gomi vs Florian - UFN 21
Nelson vs Struve - UFN 21
Super Heavyweight
Join Date: Feb 2008
Posts: 4,079
i like tito. hope he heals up and fights babalu and sokky winner
lol someone should make a gif of tito running from wanderlei because he looked pretty silly. he literally sprinted to the other side of the octagon.
Quote:
i like tito. hope he heals up and fights babalu and sokky winner
I hope he fights Babalu, that'd be a very entertaining fight. I think Babalu would win with a sub though.
---
Favourite Fighters:

Dan 'The Outlaw' Hardy
Anderson 'The Spider' Silva
Renato 'Babalu' Sobral
Michael 'The Count' Bisping
Thiago 'The Pitbull' Alves
Kenny 'Kenflo' Florian
Quinton 'Rampage' Jackson
I didn't write this, I found this on sherdog.
This sport -- it's called MMA.
Mixed Martial Arts.
If Machida's use of karate and sumo, trumps another fighter's use of more traditional styles like wrestling/boxing/muay thai etc., TOUGH SHIT. That's the way it goes.
** That's the sport. **
Stop bitching, and instead, try coming at him with something that BEATS HIM.
"A fighter I like lost, WAAHHHH!!"
Some of his critics seem to like hiding behind the supposed theory that he's not 'exciting enough'. Gee, I didn't realize there were so many Sherdoggers worrying about the UFC's marketing division posting on here!
His fights ARE exciting, and dramatic -- aside from also being technical ******* clinics. Sorry if you don't get the sport.
Yeah, I know you've heard that before -- "if you're not a fan of Machida, then you don't get it".
Guess what ... IT'S TRUE.
You know all that stuff the fighters do when they're not hitting and subbing each other? When they're not even touching? You know ... footwork, angles, moving around each other, cutting each other off, watching each other, the art of choosing the moment of engagement, etc., all that stuff?
Well believe it or not: To SOME of us, all of that is just as interesting as the fist hitting the face, the powerbomb, or the kneebar. Don't understand how someone could feel that way? Then yeah ... YOU DON'T GET IT.
Fighters do get it, by the way. You know ... The experts. True, some fighters let their egos get in the way of complementing a guy's technique who beats them *cough TITO cough*, but other, more humble fighters, can be honest even in defeat. Stephan Bonnar said about his bout with Machida that he was "like a ghost ... I couldn't touch him". And yet, by the end of the match Bonnar's face was a bloody mess, and indeed was the very reason for the stoppage.
If you don't get it, then you probably just like the moment of the KO, the moment of the submission, etc.
Which is fine, except that in his undefeated career, Machida has delivered both of those, too. So what's your problem?
Oh wait that's right, some of you are saying that Machida is only interesting to hardcore MMA fans, but that his fights are boring to "most people". The casual fan, or the new fan, right?
Wrong. I watched him whup Tito with a few people who had NEVER seen MMA before, and they thought Machida was awesome.
Additionally, at work the very next week, a guy I know who had ordered that UFC event, HIS FIRST IN YEARS, when I asked if he liked it or not, the first thing he said was "Who was that guy that kicked Tito's ass?"
Now these examples may be anecdotal, I'll concede to that. But then, where is the evidence to the contrary? To the idea that their are masses of new or casual fans out there who don't enjoy Machida's performances, and I must quote Seinfeld, "Who are these people?"
I submit to you, that they don't exist.
More than likely, most of you critics who hold up "he's not exciting" as a shield, are really just fans of 'the other guy' Machida just made look childish on any given night. You are sore losers with sour grapes. You are embarrassed, just like Machida embarrassed your fighter.
Whenever someone cries that he is always "running", you show yourself to be a fool. Just look at the other guy's face when the match is over.
- Tito, big fat mouse on his face. Wore sunglasses to the post-fight press conference.
Wait a second... Machida just took Tito down, and GnP'd him. Isn't that what Tito usually does to people? Hmm..
Wow, is that a Brutal... Knee... Knockdown?
HOW BORING.
You can tell by the way the entire live crowd jumps to their feet in the background when it happens, you know out of intense boredom.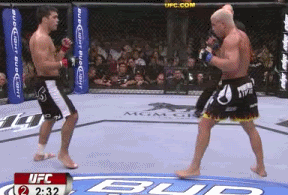 Hmm, looks like Lyoto just faked a leg kick, switched in mid-move and landed a high kick. Uh-oh, Lyoto is being elusive again ...
In fairness, I should include all of the highlights where Tito landed strikes & takedowns on Machida ...
OH WAIT. TITO DIDN'T LAND A SINGLE THING WORTH A SHIT THE WHOLE FIGHT.
And the list goes on and on ...
- Bonnar match was STOPPED several times, and eventually CALLED, from excessive facial bleeding.
- Former UFC MW Champion contender Rich Franklin was given his first KO -- and his first loss -- by the one and only, Lyoto Machida.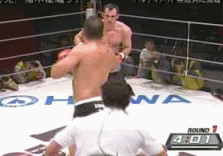 - Soko, who had just run through top PRIDE favorites Ricardo Arona, and Antonio Rogerio Nogueira with first-round knockouts... happened upon a fighter named Lyoto Machida in the cage... whereupon Soko then got BEATEN DOWN ... and promptly CHOKED THE **** OUT.
Bottom line -- when faced with these facts, as an MMA fan, you have a choice. You can either choose to act like a man, or like a little, little girl.
He doesn't have to be your favorite fighter, he doesn't have to have your favorite style.
But only a little girl would criticize Machida's talent, or cry about running, despite the beaten faces of his opponents ... these are the actions of a crying woman, weeping like a shameless whore.
Instead, why not follow the advice of Don Vito Corleone, and "ACT LIKE A MAN!!"
... Why not do what an honest and honorable fan of the sport would do?
... Start theorizing about who, or what style, will be good enough to beat him.
Who knows, you might actually come up with something interesting.
That is all.
Oh yeah --
WAR MACHIDA.
Flyweight
Join Date: Oct 2006
Posts: 258
Quote:
I hope he fights Babalu, that'd be a very entertaining fight. I think Babalu would win with a sub though.
Tito vs Babalu is my dream fight. I've wanted this since I started watching MMA, and have looked forward to Babalu choking Tito out.... someday, maybe....
---
The preceding message is simply the opinion of the poster.
Lightweight

Join Date: Mar 2008
Posts: 1,655
I really do enjoy listening to Machida nuthuggers repeatedly bitch about him not getting a title shot.
Currently Active Users Viewing This Thread: 1

(0 members and 1 guests)
Posting Rules

You may post new threads

You may post replies

You may not post attachments

You may not edit your posts

---

HTML code is Off

---