Tito Ortiz Reflects on Machida Fight
---
Quote:
Tito Ortiz has spoken about his fight with Lyoto Machida at UFC 84: Ill Will. As is often the case when "The Huntington Beach Bad Boy" talks about anything Ultimate Fighting Championship related; he is not happy about it.

Tito told mmajunkie.com:

"I watched the Machida fight for the first time last night. Since competing in it, I haven't even watched the fight. I hate losses. It's like a loved one dying to me. That's how passionate I am about this sport.

"But I watched it, and (my performance) wasn't as bad as I thought it was. [Machida] ran the whole time, and it's kind of funny the whole time to watch (UFC announcers) Mike Goldberg and Joe Rogan hype up how elusive he was - which I thought was really strange. You can be praised upon being elusive and not fighting?

"And he was putting pressure? I understand how he was putting pressure if he was the one that was going forward the whole time. But it's showing how they can put the icing on the cake of someone who I think is afraid to fight."

"Machida won the fight fair and square. It was just really frustrating to watch a guy run away from me the whole time."

"Machida didn't bring it that night, but he did get a win. And I think it all played out to Zuffa's way of what they wanted to do with me. But I guess if you're going to lose a fight, lose it like that and not get knocked out.

"Everything happens for a reason in this world. I'm willing to continue my career."
http://www.mmauniverse.com/news/SS3853
I rarely agree with anything Tito has to say, but in this case I do.
I think it's funny the way he'll talk trash after losing to someone though!
---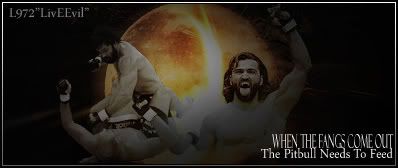 I'm gonna reflect too:
"Mr. Potatohead lost...
"
---
Sigh, Tito and his big mouth, at it again.
---
"Right kick; hospital, left kick; cemetery" - Mirko "Cro Cop" Filipovic
Banned
Join Date: Feb 2007
Posts: 3,238
Just wanna get this out there nice and quick because I believe Tito is right on this one.

It is not hard to do what Machida does. Not at all. The hardest thing about being elusive is having to see all the angry fans afterwards. Since Machida doesn't speak english, why should that bother him?
I would much much much rather get flash KO'd than put on a BS performance like Tito's that night
See, I am the opposite of Tito. I watched the fight again, and I was more more impressed with Machida the second time around. Mainly, I wanted Tito to win, when Machida made him look like an idiot, I blamed Machida and not tito.

Looking back now, I can appreciate How great of a gameplan Machida enacted.
---
Gotta love Tito.

When he talks about Zuffa getting what they want, I agree with that. Other than that, not so sure.
---
-------------------
Dan The Ju
-------------------
this is great. but the timing of his opinion and statement are completely irrelevant.
Final time, Machida doesn't run; nobody ever said Liddell ran in his last great run. Running = Tito vs Vanderlei
Running away from what Tito? Your terrifying striking abilities? Or your take downs, that were never successful?

Tito knows damn well if he engaged it was lights out, and using this "Machida ran from me" bullshit is getting old.

I hate bashing Tito, but he deserves it on this one.
---

This Time ... Break It!
FFL Season 3: 11th Place
Quinton Jackson vs. TBA
Gesias Calvancante vs. TBA
Fabricio Werdum vs. TBA
Thales Leites vs. Anderson Silva
Currently Active Users Viewing This Thread: 1

(0 members and 1 guests)
Posting Rules

You may post new threads

You may post replies

You may not post attachments

You may not edit your posts

---

HTML code is Off

---