Surging Cane Eyes Spring Return
---
Quote:
Originally Posted by sherdog
His name was on the periphery less than a year ago after a disqualification loss to James Irvin in his UFC debut. Now, Luis Arthur Cane has climbed into the discussion as a potential light heavyweight title contender.

Quality decisive wins against former World Extreme Cagefighting champion Jason Lambert and Team Quest brute Rameau Thierry Sokoudjou work wonders with one's resume. The last 12 months could not have gone better for Cane.

"It was, for sure, the best year in my career," he says. "I got two good victories in the UFC, and some rankings place me in the top 10 in my division. I don't even know if I am, but some of them say that."

Elbow surgery has kept Cane (9-1, 1 NC) out of the Octagon since he throttled Sokoudjou over the course of two rounds at UFC 89 in October. Still, the 27-year-old Brazilian has emerged as a viable threat at 205 pounds. All nine of his wins have ended with a finish, eight of them by knockout or technical knockout.

"I had a week's vacation after the [Sokoudjou] fight; I stayed quiet," says Cane, who underwent the procedure on Nov. 1. "My elbow was hurt going into the fight; I'd suffered with it for two months. I didn't stop training, but I couldn't train like I wanted to on the ground. I've tried a little muay Thai [since the surgery], but my elbow was a little swollen. I need to get my elbow better first, so I don't have any future problems with it."

Cane indicated he turned down the opportunity to fight in March, but he believes he will be at full strength soon.

Cane's recent surge inside the Octagon paid off in some financial security."I told them I'll be ready to fight from April on," he says. "I asked to come back later in order to have more time to recover."

Cane's recent surge inside the Octagon paid off in some financial security, as well, as the UFC inked him to a new contract in wake of his victory over Sokoudjou three months ago. Apparently, UFC brass likes what it sees.

"They're enjoying my work," Cane says. "Otherwise, they wouldn't have renewed my contract. They're cutting several athletes, so, without a doubt, they're enjoying my work. I feel very happy with that."

Cane also addressed rumors of a potential bout with countryman Anderson Silva, the reigning UFC middleweight champion who has moonlighted at 205 pounds and seems likely to continue to do so in the future. Silva -- the world's top pound-for-pound fighter, according to Sherdog.com -- will likely defend his 185-pound belt against Thales Leites at UFC 97 in April.

"It was only a rumor," Cane says. "There are people who try to get a scoop but only say nonsense. It was nothing. Anderson's the best in the world, among all weights, and he's a very hard opponent for anyone."

Though his disqualification loss to Irvin at UFC 79 in December 2007 still stings -- he lost after he struck Irvin with an illegal knee 1:51 into the match -- Cane has no interest in a rematch with the heavy-handed Californian. At the time, some questioned whether or not Irvin was as wounded as he appeared.

"To be frank to you, I'm not thinking about that guy," Cane says. "I try to look forward, and I don't see him. I don't resent him. I'm focused on my career. I have nothing personal against him or anyone else, but there's no reason for me to fight against this guy again."
Source:
http://sherdog.com/news/articles/sur...g-return-15701
I wouldn't mind seeing him knocking out Jardine when he return's. Also I am begging the UFC when he returns to say his name right!
---
[
I see this guy making some noise in the UFC. He's got a really good style and seems to have his head on straight.
---
Favorite fighters:
BJ Penn
Nogueira Bros
Anderson Silva
Lyoto Machida
Demian Maia
Andrei Arlovski
Repped, i have been looking for news on him for the last two weeks and couldn't find anything. I believe that Cane will be a huge force in the lightweight division in 09.
---
Always Supporting Fighters That Fight to Finish or be Finished

Edson Barboza
Jose Aldo
Conor McGregor
Nate Diaz
Donald Cerrone
Gabriel Gonzaga
Brandon Thatch

I like the idea of a fight with Jardine, I dont think it would be as straight forward as your anticipating though Legend.
I actually think it would be a very easy fight for Cane with how inconsistent Jardine is and with his weak chin.
---
[
bring it on Cane, the Dean of Mean is ready
Megaweight

Join Date: Apr 2006
Location: Everett, MA
Posts: 5,961
Cane has some real tight Muay Thai, and he is very aggresive with it. I dont know if Jardine could handle his relentless in your face style. I think Cane would either win a dominant decision, or finish Jardine in an entertaining slugfest.

Cane is everything Vera could be, but for some reason isnt. This dude is a legitimate title contender. Any dude that stands and bangs with Sokky, doesnt flinch and KO's him is a badass. His demolition of Lambert was cool too.
---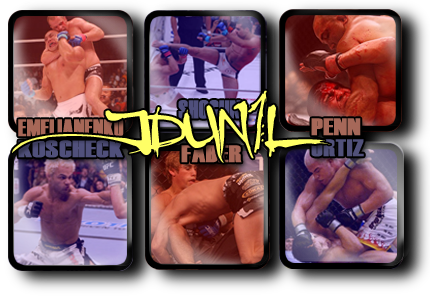 Mancrushes
1.Shogun
2.BJ
3.Fedor
4.Kos
5.GSP
Im in Porno's
Cane impressed me very much with his KO of Sokky. The guy waits for openings and has great MT. I think he'll beat Jardine.
Lightweight

Join Date: Mar 2008
Posts: 1,655
Quote:
I actually think it would be a very easy fight for Cane with how inconsistent Jardine is and with his weak chin.
Always bet on Jardine when he is the underdog.
Quote:
Always bet on Jardine when he is the underdog.
I think Jardine would probably be the favorite, and just to let everybody know I brought up the idea of him facing Jardine nothing has been offered or signed.
---
[
Currently Active Users Viewing This Thread: 1

(0 members and 1 guests)
Posting Rules

You may post new threads

You may post replies

You may not post attachments

You may not edit your posts

---

HTML code is Off

---