View Poll Results

: Is Tito Afraid of Chuck Liddell?

Yes
12
34.29%
No
23
65.71%
Voters: 35. You may not vote on this poll
Is Tito afraid of the ICEMAN!
---
Chuck is still claiming that Tito is afraid of him even though Tito was pushing for this fight! In your opinion, do you think Tito is still afraid of Chuck Liddell? Do you think he was ever afraid of him? What are your thoughts?
---
You forget that this isn't just some brutal sport where everyones out to kill each other. Its much more like a game of physical chess.-looney liam
I think Tito is still afraid of Chuck. Who wouldn't be? Every fighter goes into the ring scared, but Tito is especially afraid of Chuck. He knows what Chuck can do to him and what he DID to him. I still don't believe Tito is even ready for the Iceman. At the end of the night I see Tito going home, tail between his legs as Chuck raises the belt.
I actually think Tito has gained a lot of confidence, especially since he's returned. He's gotten better, he's training as hard as ever, and I think he truly believes he's got Chucks number. I'm rooting for Tito to do a lot better in this fight, but I imagine Chuck will take him out again, most likely by KO.
delusional? yes. afraid? no. chuck's contract guaranteed him a shot at the title and i do believe the incumbent LHW champ during his signing of that contract was chuck liddell. if he was that scared of chuck, i'm fairly sure he wouldn't step inside the ring with him until tito was feeling more than prepared.
Every fighter is scared when they step in the ring though. If they say they aren't then they are f**king lieing. Also, hasn't Tito always said he was training harder then ever? Hasn't he always said he was ready? Every fighter says these things, dosn't mean they are.
I don't believeTito has gained any confidence. Look who hes beaten since his loss to Lidell: Cote, Vitor, Griffin, and Ken. No one can honestly tell me these fighters are even close to the caliber of Chuck. Tito isn't ready, simple as that.
---
Last edited by TheGodfather; 11-07-2006 at

11:59 PM

.
aside from the basic fear at the back of every fighters mind when they step in the ring no i dont think chucks gotten inside tito's head
---
"Obviously Today is a great day in MMA.....Pro Elite is dead" - Dana White
No. Every fighter faces certain fears when stepping into the octagon. Anything CAN happen, regardless of who you are. But to fear another fighter isn't a very good sign that you belong in there. These guys are all fighters. They're well aware of the risks as fighters . I'm sure Tito has his concerns, but to say he fears Chuck? I don't think so.
Megaweight

Join Date: Apr 2006
Location: Everett, MA
Posts: 5,961
is Tito afraid of Chuck?/ tough question...heres my take on it, no way is Tito physically afraid of what Chuck will do to him, no fighter is afraid to get hurt by another fighter, because they are all tough as nails, but i bet Tito is nervous because this fight has a huge effects on his legacy as a fighter, and no matter what he says being champion is important to him, and he knows that Chuck is a very good fighter and if Tito doesnt fight a perfect fight he knows he will lose, SO IS TITO AFRAID OF CHUCK?? NO , BUT HES VERY NERVOUS
---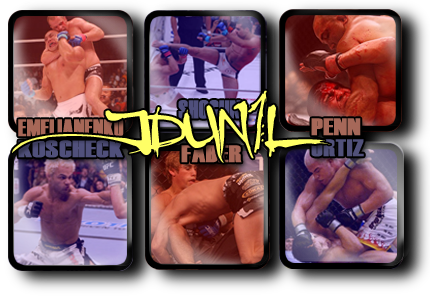 Mancrushes
1.Shogun
2.BJ
3.Fedor
4.Kos
5.GSP
Im in Porno's
naw Tito isnt afraid of Chuck, hes always beeen talking about wanting this rematch forever now, hes very focused more focused then he has ever beeen, December 30th willllll be a good night
---
"I only want to be known as the best ever, is that too much to ask?" - BJ Penn
Currently Active Users Viewing This Thread: 1

(0 members and 1 guests)
Posting Rules

You may post new threads

You may post replies

You may not post attachments

You may not edit your posts

---

HTML code is Off

---