Man Bj ruined his legacy. I really didnt see any of this coming before the fight. Good Job GSP your handling it well it seems haha
---
oh man i laughed so hard i cried. simply amazing lol
Super Heavyweight

Join Date: Sep 2008
Posts: 4,364
Hahaha that is awesome.

It sounds like he really wants to get his revenge by teaching Florian how to beat Penn. That would be awesome if it happened.

I really think Florian has a chance now. Penn has shown some huge weakness mentally throughout this whole ordeal and I don't think he has his hed anywhere but thinking about this fight with GSP.

I wonder if Penn will retire if he loses to Florian...
lol at bj
he didnt even flinch
---
Curitiba Food and Liquor

Join Date: Dec 2006
Location: NY
Posts: 16,176
Am I the only one who just....oh never mind.

Awesome video. God I love Georges.
---

Sig Credit to Toxic

MMA Fanatic
Join Date: Jan 2009
Posts: 24
Another Evil Plan succesfull..
War GSP
---
Rooting for..
HW
- Brandon Vera
LHW
- Lyoto Machida
MW
- Martin Kampmann
WW
- John Fitch
LW
- Clay Guida
hahaha, one of the funniest things I've seen in awhile
I'VE LOST ALL RESPECT FOR GSP!

You can tell he's telling the truth about it too. Look at BJ's face and body reaction to the kiss.. he loses a little edge.. a little aggresion... looks like he just got kissed by a dude.

I've lost all respect for GSP and I hope him ill-will! I can't believe he's a dirty cheater! OMG! When you think you know a guy..

Nah I'm just playin. GSP is the freakin best. DESTROY ALVES!

Oh yeah! 900 posts and countin!
---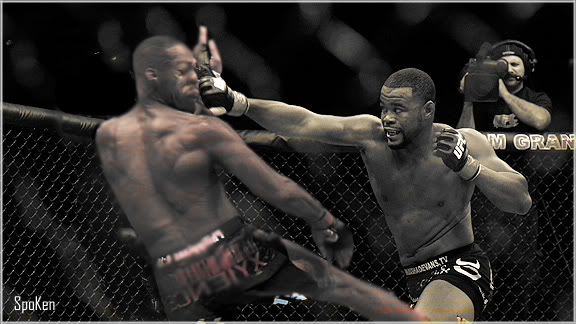 Sweet sig by Life B EZ
I feel like I get paid way to much money, but not enough -Nick Diaz
Currently Active Users Viewing This Thread: 1

(0 members and 1 guests)
Posting Rules

You may post new threads

You may post replies

You may not post attachments

You may not edit your posts

---

HTML code is Off

---