Anderson Silva: Roy Jones Jr. boxing match practically a done deal
---
Quote:
Anderson Silva: Roy Jones Jr. boxing match practically a done deal
By:
Jesse Holland
Props:
Graciemag.com
Quoteworthy:
After my contract with the UFC ends and end my career in MMA, I intend to have a boxing match with Roy Jones. That's something that's already been arranged, it's all practically a done deal. Now I just have to wait and see.

-UFC middleweight champion Anderson "The Spider" Silva seems to be merely biding his time until the completion of his UFC contract to finally test himself in the world of professional boxing. "The Spider" first mentioned his interest in the sweet science after he dispatched of Dan Henderson at UFC 82: "Pride of a Champion" in March 2008. And there is perhaps no boxer who has accomplished more in the sport in the past decade and a half than Jones Jr., although he could be considered past his prime despite winning four of his last five bouts. Is Anderson getting too big for his britches? Or does he have the stuff to hang with the boxing legend?
From:
http://mmamania.com/2009/03/25/ander...y-a-done-deal/
Andersone been talking about this for awhile so I guess he's very serious about doing this eventually. Quite honestly I'd be pretty interested to see how he would do but I just don't want him to leave MMA for awhile so that certain match-ups take place before he goes.
---
I thoguht he had decided against this and was going to stay in MMA longer than orignally talked about acording to his trainers? Was this just talk? I for one think it would be unwise of him to do this.
Flyweight
Join Date: Jul 2008
Posts: 262
sure would be sweet to see him get dominated boxing

i would laugh

but i want to see him get dominated either way, he's too good to cheer for
Anderson is obviously talking about a not too distant future because Roy isn't getting any younger. I would expect this is within the next 2 years for sure.
Bantamweight
Join Date: Jan 2009
Posts: 963
I wonder how many fights are left on his contract? Doesn't the UFC have something to hold him for awhile if he is still champion when the contract expires?
---
"The Huntington Beach Bad Boy" Tito Ortiz
Quinton "Rampage" Jackson
"The Dean of Mean" Keith Jardine
"The Next Big Thing" Brock Lesnar

Wow, I guess he really is going to go through with this. But like Walker said, I hope he doesn't stop doing mma for a while, there are still some interesting fights to be had with him.

It would, however, be interesting to see how he does in boxing. I guess we'll see what happens.
---

Megaweight

Join Date: Apr 2006
Location: Everett, MA
Posts: 5,961
After Roy schools him, it would only be fair to give Silva his chance at redemption in the cage. That would be the biggest fight in the sports history, and it would be ugly. Roy wouldnt know what to do.
---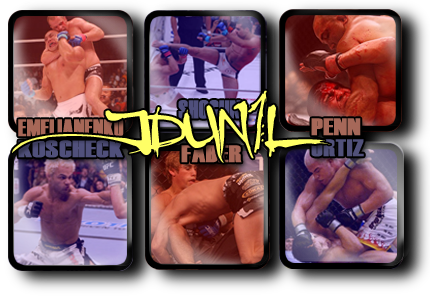 Mancrushes
1.Shogun
2.BJ
3.Fedor
4.Kos
5.GSP
Im in Porno's
Not 100% but I think going into the Cote fight Silva had 6 left so after Leites he should still have 4 remaining on his contract.
---
Live right and every other day is a good one to die.
Join Date: Jul 2008
Location: The Big Island, BC.
Posts: 1,431
i have a ton of faith in the skills of Anderson but RJJ is going to out point him all night long imo.

If it were a kickboxing match the edge goes to Silva, but in a boxing match. aye, RJJ take the cake 4 times out of 5 (a generous prediction for Silva).
---
Currently Active Users Viewing This Thread: 1

(0 members and 1 guests)
Posting Rules

You may post new threads

You may post replies

You may not post attachments

You may not edit your posts

---

HTML code is Off

---