View Poll Results

: Does Matt Serra stand a chance against GSP?

yes, his solid bjj and overall experience gives him a chance
7
9.46%
no. he doesnt have a snow balls chance in hell of winning
58
78.38%
its possible...only if Marc Laimon trains him!!!!
9
12.16%
Voters: 74. You may not vote on this poll
Serra is a good guy, BUT he isn't ready for GSP. It won't be a suprise to anyone.
Megaweight

Join Date: Apr 2006
Location: Everett, MA
Posts: 5,961
i..dont..wanna..hear..the.word.punchers..chance..o r..anything..like..that..because..i...can..strike. .but..does..that..mean..if..i..faught..GSP..i..wou ld..hae..a.punchers..chance??..HELL..NO..ID..GET.. .KILLED..same..as..Serra
---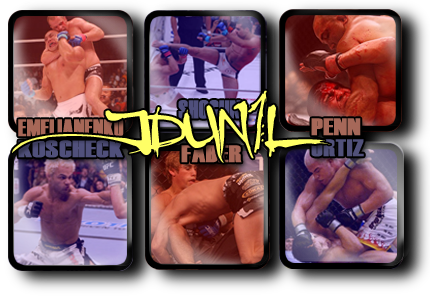 Mancrushes
1.Shogun
2.BJ
3.Fedor
4.Kos
5.GSP
Im in Porno's
Flyweight
Join Date: Nov 2006
Posts: 372
Quote:
Originally Posted by Slick_Fugitive
he has 2 chances - slim and none!
And i heard slim just left town
He does have a chance, he does have good BJJ, and to me it didnt really seem like Hughes was trying to take GSP to the ground. I think like in his pre fight interviews when he was saying his punching is much improved, he wanted to stand and trade.
Hughes KNOWS he's good on the floor, and winning 8 consecutive fights may make you want to try something else and improve elsewhere like standup. Which to me seemed like he wanted to do and got OWNED.
So its not like GSP cant be taken down, i dont remember seeing the BJ Penn fight so cant say how great GSP is at takedown defence but im shure he will work on it like Tim Sylvia did.
But all in all, his chances are slim, and if he did win im sure he would get torn apart in a re-match.
No chance whatsoever. The only chance Serra would have would be on the ground, and a very slim chance at that. Matt Hughes couldn't take GSP to the ground, not even close, and he has legendary takedowns and slams. Serra is much smaller than Matt Hughes or GSP, he has no business fighting at 170 (though I don't blame him, for the opportunity at a title you gotta fight at whatever weight). In a striking match (which is what this will be since Serra won't be able to take GSP down) Matt Serra has zero chance. GSP will destroy him, it won't even last 1 round.
MMA Fanatic
Join Date: Nov 2006
Location: ontario
Posts: 5
Serra is gonna get knocked the fack out... gsp is too intense for anyone to beat him.. its gonna take a newcomer to the ufc with some actual talent on their feet to give gsp a run for his belt. matt hughes is still easily the 2nd best in the weight class n he WONT beat gsp if there is a rematch
Welterweight
Join Date: Nov 2006
Location: Toronto, ON
Posts: 2,449
Matt Serra TKO victory by "hammafists" in the 3rd round! xD

It is not impossible that Serra wins, just highly improbable. He's an entertaining fighter, but he cannot compete with a fighter the caliber of Georges St. Pierre.

NOT A CHANCE!
I think they should put Sera and Penn together - at least Sera would stand a chance at a win and if BJ won it would give him the confidence he seems to be lacking!

---

- JustJanis the BadHabitBabe
Lover of all things Boxing & MMA!!!
"Welcome to my world. Hope you brought meds!"
Freddie Roach is the MAN!!!
GSP is a bad match up for Matt Serra. I believe the fight will stay standing up and GSP will knock em out in the first round....
---
My Favorite fighters:

Yves Edwards
Randy Couture
Georges St. Pierre
Wanderlei Silva
Vitor Belfort
Flyweight
Join Date: Oct 2006
Location: NYC
Posts: 336
Matt Serra is an excellent coach/trainer, awesome as a LW fighter, but cannot get KOs as a WW, awesome BJJ, but thats all that Matt has to offer and oh yeh his "HammaFist"

but he def. does not have the Size/Strenght/Explosiveness/Striking/Kicking ability as St.Pierre so in other words, this fight is going to be as similar to Lutter facing off Anderson Silva
Amatuer
Join Date: Oct 2006
Posts: 103
Yah, Sera needs to play at 155. GSP is a big 170 fighter, I'd give him near even odds against Silva and Franklin at 185.

Maybe Sera is learning the spinning back fist from Shonie?
Currently Active Users Viewing This Thread: 1

(0 members and 1 guests)
Posting Rules

You may post new threads

You may post replies

You may not post attachments

You may not edit your posts

---

HTML code is Off

---