Our UFC 99 Predictions...What's Yours?
---
Super Heavyweight
Join Date: Feb 2008
Posts: 4,079
i dont agree. wand will **** up rich
I agree on all fights, except for the Kongo/Cain fight, but that's just my hate talking. He may just as well win.
But great video, and predictions as always. You guys rock.
---

Middleweight
Join Date: Jul 2008
Location: Iowa
Posts: 2,615
Quote:
i dont agree. wand will **** up rich
I agree all ngiht long
---
Grinding Gears
Flyweight
Join Date: May 2008
Posts: 252
I agree with all their majority decisions. Although I can see Saunders maybe pulling something off here. Something about his style and body type might give swick issues. I also agree that Cain is a small heavy weight and if he loses should look into dropping a weight class.
Pretty entertaining to watch guys, keep it up =)
btw Rich 4 the win!
---
Thanks to limba for this AWESOME sig
Nice video. I agreee with all, but don't know about the Cain fight...if Kongo can't get off his back it'll be all she wrote.
Megaweight
Join Date: Mar 2007
Posts: 5,499
I love your video's but I find myself disagree'ing with you on Cain/Kongo. Kongo has no real ground game to speak of, and Kongo's weight advantage won't really help him because he doesn't know how to use it on the ground like GG or Lesnar can.
rich is my boy and all... but wand... i drop to 2 knees for >_>

wand by KO 1st
---
If a law is unjust, a man is not only right to disobey it, he is obligated to do so. ~ Thomas Jefferson
Sig by D.P.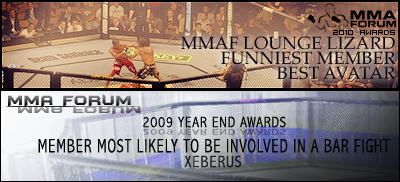 The only advantage I would give Wandy in this one is punching power and speed. Rich is a better taction, has better cardio, and arguably more effective striking as of lately ofcourse.

I pick Rich, Taylor, and Hardy just for fun.
---
"...I don't care whether you're happy, sad, scared or indifferent ...When my music hits those speakers, I will make that walk - and I will make it EVERY SINGLE TIME"
Currently Active Users Viewing This Thread: 1

(0 members and 1 guests)
Posting Rules

You may post new threads

You may post replies

You may not post attachments

You may not edit your posts

---

HTML code is Off

---