Bantamweight

Join Date: Mar 2007
Posts: 721
Bisping v Wanderlei "later this year"
---
Quote:
13/06/09 - Bisping v Wanderlei 'later this year'

Michael Bisping and Wanderlei Silva are being lined up for a fight on UK soil later this year, if Silva beats Rich Franklin at UFC 99 tonight.

According to source close to the fight, the UFC would look to stage the bout in the UK late this year, with Bisping going on to face Anderson Silva if he wins.

The UFC wants to stage the fight in England, to take advantage of Bisping's popularity there. The fight would almost certainly headline the event and Bisping is a proven ticket-seller in the UK regardless of whether the event features a title fight or not.

Wanderlei has also been linked with a possible fight against Nate Marquardt by UFC president Dana White, who mentioned the potential match-up yesterday.

"Should Wanderlei win tomorrow - I actually think Bisping would be next in line if he beats Dan Henderson - then maybe you have Wanderlei fight Marquardt. But we have all those different scenarios we could have. Its exciting, its good for the 185lb division," he said.

But with Silva having gone 1-2 since arriving in the UFC - and with a key fight against Frankiln just hours away at time of writing - White also discussed the point at which he would ask Silva to retire.

White says the key questions are "how many times have you lost? How have you lost? How old are you? Do I see any effects healthwise?" and added: "To be honest, the Wanderlei Silva thing, those questions will probably be answered this weekend."

John Joe O'Regan
http://www.fightersonlymagazine.co.u...=2587&offset=0
---
Takedown, Dominate & Destroy


Join Date: Dec 2006
Location: Hawthorn, South Wales
Posts: 2,060
Wandy by **** Choke
---
Top 7 Favorite Fighters at the moment
1. Forrest Griffin
2. Clay Guida
3. Shane Carwin
4. Jon Fitch
5. Chuck Liddell
6. Wanderlei Silva
7. Chris Leben
Banned
Join Date: Jun 2009
Posts: 21
I say Wanderlei by front wedgie
Wand by KO

or bisping by bitch UD

btw **** bisping, if i see him KO'd it'll be my new ava
---
If a law is unjust, a man is not only right to disobey it, he is obligated to do so. ~ Thomas Jefferson
Sig by D.P.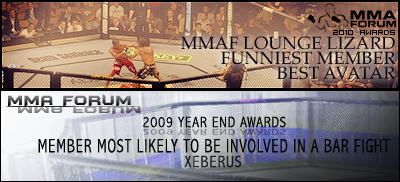 MMA Fanatic
Join Date: Jun 2009
Location: Middlesbrough - England
Posts: 59
MMMMMMMMMMMMMMMMMMM interestin the bottom line is anderson silva would make examples of both bisping and wanderlie i just dont see thm even comin close to the standard of anderson he would jst destroy thm slowly and painfully
I was under the impression that the winner of Hendo and Bisping would get the next title shot?
---

Fedor, Mir, Lytle, Serra, Hendo, Chuck, Minowaman, Maynard, Forrest, Hunt
Pickett, Cerrone, Matt Brown, Bisping, Weidman, Barnett, Lawler


Here's a short video interview with Wanderlei. He says he thinks Bisping will beat Henderson which would hopefully set himself and Bisping to fight in England later in the year. I personally think Wanderlei shouldn't be saying any of this until after tonight.
http://www.telegraph.co.uk/sport/oth...g-for-top.html
Quote:
I was under the impression that the winner of Hendo and Bisping would get the next title shot?
thats exactly what i thought. the winner of that match definitely deserves it, plus after the tuf9 they'll have a huge crowd following and everyone knows anderson can't really sell a ppv very well. i thought that was the reason they were on the show in the first place.
maybe its going to maia/marqaudt winner instead.
---
<--- the punch that started it all!
My current favirote fighters
Anderson Silva
Junior Dos Santos
Mauricio Rua
Alistair Overeem
Jon Jones
WAR dan hardy, paul daley, ross pearson and terry etim doing it for the britz!
Bisping won't get a title shot until Anderson loses/retires. You can't have your golden English boy lose, oh no.

I say Wandy by Knockout.
MMA Fanatic
Join Date: Nov 2009
Posts: 19
---
Its going to be wandy vs bisping ufc 110 i know my ufc
Currently Active Users Viewing This Thread: 1

(0 members and 1 guests)
Posting Rules

You may post new threads

You may post replies

You may not post attachments

You may not edit your posts

---

HTML code is Off

---