Quote:
Actually, that is not the case. In Germany politicians can only make a law if the federal constitution court agrees. The judges don't belong to political parties, so they're not biased and they can only ban MMA if it is against the constitution or if it's a threat to society... which it is not. A complete ban is highly unlikely, but UFC will have to live with the bad press for a while.
The UFC gets bad rep everywhere. There is hope for germany! The more places the UFC goes, the more it takes over.
---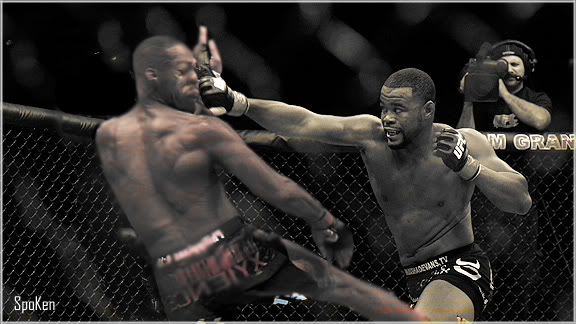 Sweet sig by Life B EZ
I feel like I get paid way to much money, but not enough -Nick Diaz
There is one good thing about this. Since the media is concentrating on MMA and the politicians follow that lead because they want to be re-elected, they have stopped trying to ban ego-shooters (which will never happen anyway).
---
Rookie Hammer Squad 2015
Frankie Edgar - Dominick Cruz - Jorge Masvidal - Cat Zingano - Holly Holm
Unfortunately, UFC does not have Fedor Emelianenko on its roster. With him a show in Russia would definitely be sold out in no time, we don't have such strict regulations as Germany has towards Mixed Martial Arts. Besides, it could be a huge promotion of the sport in my country, cause frankly M-1 Global sucks in all aspects.
---
Favorite fighters:
1. Badr Hari
2. Remy Bonjasky
3. Mauricio Rua
4. Anderson Silva
5. Alistair Overeem
Live right and every other day is a good one to die.
Join Date: Jul 2008
Location: The Big Island, BC.
Posts: 1,431
argh. more ignorant sports 'journalism'... par for the course.

The only people who lose out if MMA is banned by these know-nothing blowhards are the well educated fight fans. MMA will continue to grow.
---
I think Germany quite possibly was the worst location they could've done a UFC event In mainland Europe.

These are the same people who ban a video games even If It contains even the slighest amount of blood.

I think Netherlands, Spain, France and Italy would've been much better choices. Maybe even Finland which has Its own "Finnfight" org.
---
---
Last edited by Vale_Tudo; 06-17-2009 at

07:20 PM

. Reason: typo
Live right and every other day is a good one to die.
Join Date: Jul 2008
Location: The Big Island, BC.
Posts: 1,431
I gotta imagine Amsterdam would have been huge too. The dutch love their kickboxing and karate anyways... but you'd have to feel for the fighters who wouldn't be able to partake in the other delights of the region
---
I dont know whether the UFC will bother with another German show. They have fought long and hard to get to a level where they dont need to put up with ignorant press and angry officials and such.

They could go to so many places I dont see the need to try and force it to a place where there is resistance. New York is a huge deal so I can understand, but it's not like they need Germany. They gave it a shot and it wasn't necessarily embraced - no big deal.

To me they should be looking at places (like Canada) where they can go and theoretically be selling out arenas for their new markets. I've said it before but that card was wasted on the Germans.
---
Pick the Card Comp YTD: 61-30
Curitiba Food and Liquor

Join Date: Dec 2006
Location: NY
Posts: 16,176
Any violent behavior could be imitated by anyone, of any age, stable or unstable, resulting in injury or death. laaaaaaaaaaame propaganda.
---

Sig Credit to Toxic

Heavyweight
Join Date: Apr 2007
Posts: 3,709
Quote:
Lol nah, I'm pretty much saying that because, Germany seems a lot more strict then the US. I know nothing of Germany though, but I'm assuming if enough big name politicians over there want to ban MMA, it would be easier to do then in the US.
From my travels through Germany I saw legal prostitution and people drinking in the streets. The German people have a gruff attitude but I think they are pretty open minded, and they have awsome beer.
Pfft the Germans should talk...lets not forget The Holocaust...
---
Currently Active Users Viewing This Thread: 1

(0 members and 1 guests)
Posting Rules

You may post new threads

You may post replies

You may not post attachments

You may not edit your posts

---

HTML code is Off

---