lesnar by horshoe
---
Sonnen On the spider
"If he wants to leave the division, leave the sport, who cares, Beat it, nobody tunes in to watch him anyways, and his little fake 'I don't speak English.
If this fight happened a hundred times the vast majority of those times I see lesnar winning via brutal tko/ko early in the first round.
---
If a law is unjust, a man is not only right to disobey it, he is obligated to do so. ~ Thomas Jefferson
Sig by D.P.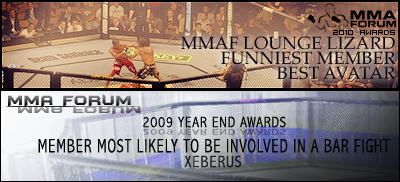 I would want to see this fight as much as I'd want to see GSP vs Silva....
Bantamweight
Join Date: Nov 2006
Posts: 646
I'd give Silva a slight chance, dude does hit hard.
actually i could see anderson silva hanging in there.
he has the best ring movement in the ufc and could tap brock a lot.
standing brock doesn't have enough skill to strike with silva.
on the ground though...different story.
---
.
BELIEVE!
Lightweight

Join Date: Oct 2006
Location: Vancouver BC
Posts: 1,981
Featherweight
Join Date: Jul 2009
Posts: 1,158
Quote:
Originally Posted by
Liddellianenko
View Post
The near unanimity of opinion on how Brock would crush Silva is kind of surprising to me. I agree that Brock would win too, but I'm surprised hardly anyone thinks Silva even has a fair chance and this is a ridiculous fight to even contemplate.

Geez people, first of all, Silva gives up not 80, but 60 lbs to Brock if that. Silva walks around at 220 and Brock at 280. Maybe some of that 220 is fat but not much, because he looked way more cut at 205 than Brock at 265. So I'm guessing if Silva packed on some muscle and for this fight, he would be giving up 50 lbs of muscle to Brock.

Fedor has fought at least half a dozen fights with that much or more weight difference, and he's dominated them all.

Also Brock's manhandling of Mir and Couture doesn't mean he'd do the same to Silva, those guys are dinosaurs with their technique compared to Anderson.

I think Lesnar would eventually barrel Silva down just because you can't sprawl against 280 pounds of Rhino charge, and he can only dodge for so long (something I think Machida might have better success at). And his bottom game is certainly not better than Mir.

But at the same time, Silva has a VERY good chance of tooling Lesnar on the feet. Lesnar had a LOT of trouble taking down Couture and defending his takedowns, and Couture's SMALLER than Anderson. Just because Murr and Herring bad terrible TDD doesn't mean Anderson does, and it's still plausible for him to KO Lesnar quite easily while avoiding the takedown. People seem to think Lesnar's size somehow gives him a magical impenetrable chin that can only be broken by other giants. It doesn't work like that, chin doesn't necessarily increase proportionally with size, ask Zuluzinho, Arlovski etc. Anderson could very well tag Lesnar and destroy him. Because 220 lbs of weight thrown with amazing technique hits a lot harder than even 300 thrown with crap technique .. when you break it down to the physics of it, people seem to be overestimating how much difference the weight makes.
Agreed. though i think that Lesnar has a chin and it would be a lot harder to hit it than forrest. He moves a lot faster and would be more concerned about the takedown and victory rather than an entertaining fight. The simple fact is that if Silva had the muscle i would go with him... but i have sparred with LHW as a LW and i know standing with them and trying to do anything against them adds a crap load of difficulty that is normally not there. Now i am no where near as good as Silva i know. But i just like to think he is human and can not just touch someone on the chin and knock them out.
MMA Fanatic
Join Date: Aug 2009
Posts: 71
How about if we give Brock like 6 cans of beer right before a fight and arm Silva with baseball bat?

Does Silva still has a chance?
Heavyweight
Join Date: Apr 2007
Posts: 3,709
If brock could get one hand on Silva it would be over. I think Brock would just throw himself at Silva like a gorilla
Currently Active Users Viewing This Thread: 1

(0 members and 1 guests)
Posting Rules

You may post new threads

You may post replies

You may not post attachments

You may not edit your posts

---

HTML code is Off

---