Passed Down the Grapevine - Chuck Liddell vs. Forrest Griffin UFC 104 or 105
---
Rumor being passed around, source is somebody in Chucks entourage saying after the Forrest fight, Chuck has been talking (semi-seriously) about a fight between him and Forrest. NOTHING has been set in stone, but again, it's being talked, and this is the first step.

This fight makes complete sense to me for a few reasons.

1) Both fighters, even though they are coming off a few losses, have huge drawing power.

2) Stylistically, this would make an awesome match up. Forrest the wild brawler with little KO power, taking on a true legend of the sport in Chuck Liddell, the former champion. Teacher vs. Student. Awesome.

3) Both fighters need to reassert themselves in the 205 division, and could use each other as a stepping stone to get back on their feet and back into the mix.

4) Chuck Liddell is still itching to step inside the octagon. He will not retire on a loss, and a fight against Forrest will bring him back into the Winners Circle.

This would be perfect as the co-main event for 104. If not it we will probably have to wait until 105, at worst 106.
I once tried to hug a badger. Imagine my surprise.
---
Quote:
Originally Posted by Joe Rogan
That longing to return to the retarded past can only be born of some collective, subconscious, internal desire to try to turn back the clock on humanity and halt our obvious progression towards the inevitable zombie apocalypse of 2012.
This would be a great fight. A win over Forrest will really resurect Chucks career and put him right back in the mix. likewise a win over a big name like Chuck will put Forrest back in the mix. Although I really hope they give Chuck a much easier fight for his return.
---
"Nothing like a strangulation to get the circulation going."
I'm calling BS. Just like the Franklin vs Chuck rumors.
I thought if anyone Chuck might fight Tito, for old times sake...
---
Sjung för gamla Djurgår'n
Lock the gates, make them watch...
forrest against chuck would be an awesome match up.
Dana has since backed off of that. Chuck has one fight left on his contract and they are going to honor it. Although Chuck did say that he is looking to take a couple of months off and possibly return sometime early next year.
---
"Nothing like a strangulation to get the circulation going."
Megaweight

Join Date: Apr 2006
Location: Everett, MA
Posts: 5,961
Thats a lose, lose for the UFC. They want Chuck and Forrest both to win their next fights.

If Chuck gets another fight, it wont be against a striker.
---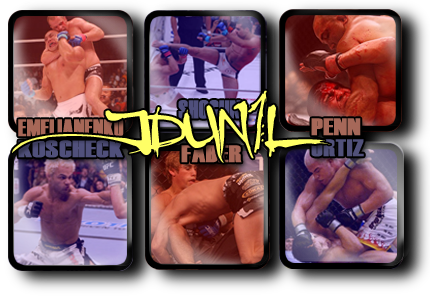 Mancrushes
1.Shogun
2.BJ
3.Fedor
4.Kos
5.GSP
Im in Porno's
I think we are all aware of that.
And you actually believe that?
I can guarantee you Chuck will be back in the octagon again.
Chuck wants to keep on fighting, he's said it in many interviews. Dana's said he doesn't want Chuck to fight again, but then said he's not Chuck's daddy and really can't tell him what to do, which gave some question as to Chuck stepping back inside the cage again.
Trust me, it'll happen, Chuck just needed some time off, and they had to find a suitable opponent for Chuck, and after 101, Forrest is a perfect match up.
Dana and Chuck are friends, but when it all comes down to it, Chuck still has the fire inside to keep going, and Dana's job is to make the UFC a lot of money, they'll come to terms.
Not having Chuck back in the octagon for at least 1 more fight is millions lost for the UFC.
Currently Active Users Viewing This Thread: 1

(0 members and 1 guests)
Posting Rules

You may post new threads

You may post replies

You may not post attachments

You may not edit your posts

---

HTML code is Off

---