View Poll Results

: Who wins this fight?

Nate Diaz
31
81.58%
Melvin Guillard
7
18.42%
Voters: 38. You may not vote on this poll
***OFFICIAL*** Nate Diaz vs. Melvin Guillard Pre/Post Fight
---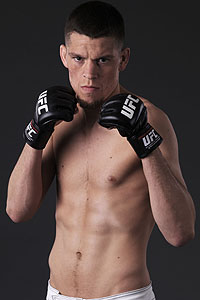 Please conduct ALL of your discussion in regards to Nate Diaz facing Melvin "The Young Assassin" Guillard in this thread. All threads made in regards to this fight will be merged into this one.
Dont be shocked to see Nate knock him out.
---
sakurabushidokan.homestead.com
Diaz by submission and it won't take long.
---

Fedor, Mir, Lytle, Serra, Hendo, Chuck, Minowaman, Maynard, Forrest, Hunt
Pickett, Cerrone, Matt Brown, Bisping, Weidman, Barnett, Lawler


Banned
Join Date: Apr 2009
Posts: 162
Guillard by either ragdoll TKO throws of Diaz on his skinny ass not able to continue... or KO...somebody please knock this kid out already... I hated him since TUF..
Nate all the way. Melvin is a tool and for some reason I can't explain, I like Nate's retarded ass.
Plus, I don't see Melvin winning because he really only has an advantage in Power. Nate and nick both have a good chin, so that shouldn't come into play. And, if Melvin takes him down, I thoroughly expect Nate to lock in a solid Triangle, flipping Melvin the bird the whole time
---
Lightweight
Join Date: Oct 2008
Location: Trinidad and Tobago
Posts: 1,738
Nate isnt a member of the Gracie family and his BJJ hasnt impressed me thus far
Melvin by KO
Gotta go with my boy Nate Diaz by Submission.
LOL f*ck Melvin 'The Coke Sniffer' Guillard.
He's a classless tool who needs to get put in a triangle choke again so he can sniff something other than his usual fancy.
Featherweight
Join Date: Jul 2009
Posts: 1,158
I can't wait to watch this fight. Guilard has some serious striking. If it goes to the ground he is royally f*cked but I would give him a little more of a punchers shance than i do most people. Guy has some serious punch speed.

Diaz by Sub.(goes to ground), Guilard by T/KO.(stays standing.)
---
MMA Fanatic
Join Date: Sep 2009
Location: California
Posts: 10
im saorry but i have no faith in the young assassin in this fight he always loses by tapping out and half the time doesnt even try to get out and who has he really knocked out? the only impressive fighter hes beat was marcus davis which was by cut or else marcus would have prevailed, bloody and bruised but would have won

diaz by submission
Flyweight
Join Date: Nov 2006
Posts: 459
If Melvin didn't fight so stupid I would say that his strength would be too much for Nate. But it's not too hard to imagine Guillard getting caught and submitted. Hope not.
Currently Active Users Viewing This Thread: 1

(0 members and 1 guests)
Posting Rules

You may post new threads

You may post replies

You may not post attachments

You may not edit your posts

---

HTML code is Off

---