Coach: "Dos Santos is a knockout artist"
---
Quote:
After Rodrigo "Minotauro" Nogueira's victory against Randy Couture, Luiz Dórea, the Brazilian's boxing coach, goes back to the gym to work on Junior "Cigano" dos Santos striking to face Mirko "Cro Cop" Filipovic at UFC 103.
"The training are great, Rodrigo will stay with me at the corner and we'll go for another victory", said Dórea, praising Dos Santos game for the fight.
"He's a very talented guy, everybody is very impressed with him. He is, for sure, one of the best boxing fighters in the world. He's very strong and fast for this division, seeks the knockout all the time… He's a knockout artist", told the coach, respecting Cro Cop.
"Mirko is a great athlete, deserves all the respect, but that's why we're going inside him. Cigano has everything to win and we're confident on that", guarantees Dórea, in exclusive interview to TATAME.com.
http://tatame.com/2009/09/07/Coach--...nockout-artist
Junior Dos Santos has lots of potential and I truly believe he's going to show it again @ 103. We haven't seen much of his grappling but training under the Nogueiras, it cannot be bad. According to Soares in another interview (Inside MMA), he started MMA training only 4 years ago.
Much as I like Cro Cop, I see Junior delivering a brutal KO at 103.
I've got enough love for cro-cop. But I'm putting a pet down on Santos, I've been watching this guy for a while and I like what I see.

Although engaging with cro-cop standing might not be the smartest move, Mirkos' career hasn't followed what his previous fights indicate he is capable of. And Santos has power, speed and technical ability- a dangerous mix.

I'm hoping the winner of this gets a fight with the winner of the cain fight, maybe one more win and then a shot at the HW title. Dos santos has mad potential.

Dos Santos RD 2 KO. But man I wouldn't mind seeing an old-school Head kick!

That's right. I'm wagering one of my pets, no money betting for me!
---
I probably was being sarcastic in the above post. I think you should flame me for it.
---
Last edited by Davisty69; 09-07-2009 at

07:28 PM

.
Lightweight
Join Date: Nov 2006
Posts: 1,911
Quote:
That's right. I'm wagering one of my pets, no money betting for me!
What kind of pet? If it is just a gecko or something then I'm not that interested but if it is your dog then you might skew the line.
I hate to say it but Cro Cop hasn't even looked that good in the fights he has won lately and he hasn't won that many. If I was petting...er betting on this I'd have to go with Santos.
Hopefully an uppercut k.o for dos santos or just kicks [haha get it] cro cops classic left head kick pride style
Banned
Join Date: Jul 2009
Posts: 0
Unless this is the "new and improved" Cro Cop I see Dos taking it.
Flyweight
Join Date: May 2007
Posts: 202
Your all in for a surprise then, just waint and see im not a cro cop fan by all means but his wild and open striking will be dealt with by a very technical striker in Cro Cop, just wait for the highlight reel ko.
Bantamweight
Join Date: Feb 2007
Location: Vienna
Posts: 977
Since i have no options here to watch these events most of the time and i only get to see Mirko.. and i hope its not just collecting the check now..
yea i expect to see CC brutally KOed
---
If a law is unjust, a man is not only right to disobey it, he is obligated to do so. ~ Thomas Jefferson
Sig by D.P.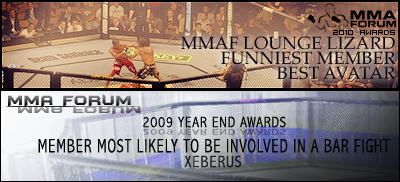 Bantamweight
Join Date: Feb 2007
Location: Vienna
Posts: 977
shitaki mushrooms.. thats bad mmmkay.. wow nobody believes in a comeback anymore.. and why should they.. yea.. Cro Cop you are on your own now so proove them wrong.. hmm

here comes my sleeping time
Currently Active Users Viewing This Thread: 1

(0 members and 1 guests)
Posting Rules

You may post new threads

You may post replies

You may not post attachments

You may not edit your posts

---

HTML code is Off

---