Quote:
I love BJ to the death. He's my favorite figher so i'll root for him win or lose.

I honestly think he'll give Diego his first KO ever. Sure Diego might have the better offensive wrestling and kicks but I don't think it'll be much different than BJ's last fight.
The Banhammer has been dealt.
---
Official Driver of
The Phenom WARWAGON!
Lyoto
Machida
- Best fighter in the world.
Anderson
Silva
Thiago
Silva
Gegard
Mousasi
Thiago
Alves
Shogun
Rua
Vitor
Belfort
Quote:
I mean how dare he get out of bed with the huger to be champion somme day
Featherweight
Join Date: Jul 2009
Posts: 1,158
I think everyone is writing Diego off too soon. I really have seen a better striker in his recent fights and i do not think that BJ will drop him. Now i would not put it past BJ to take him down at some point but that would be because i see BJ gassing trying to keep up to the intense pace Sanchez will bring to this fight. From there it is only a mater of can BJ submit someone who has never been submitted? I would not put that past him either. But if Diego can keep up his pace and avoid being taken down, I see him just pushing around a tired BJ and eventually pulling off the UD. He strikes reeally fast and where i see him losing Standing up is if he lets Penn keep distance with him and pick him aprat with his boxing. That being said i do not see Penn or Sanchez being rocked or knocked out in this fight... just one of them will gas. and i am hoping for Penn to lose because Diego is one of my favorite fighters
---
Light Heavyweight
Join Date: Nov 2008
Location: NC
Posts: 3,059
Quote:
I think Diego is a joke as a threat to BJ. Diego`s wrestling is decent at best but no where near the level it would need to be to be effectively used against Penn. The biggest joke though is when people bring up his striking which is so ridiculously overrated, I mean Kenny Florian`s striking was really overrated by alot of people going into his fight with BJ but even Kenny`s striking is better than the ridiculous brawling Deigo does I mean if Sanchez trys to brawl with BJ the way he did against Guida he will end up swinging at air from behind two black eyes, that shit will not fly against a striker of BJ`s caliber. I really dont see any possible advantage Diego can be seen as having besides possibly strength and conditioning but judging from the Florian fight that hardly seems like it will prove to be a problem even if Diego manages to survive to the later rounds. Bottom line I don`t understand why people believe Sanchez can win, he may be exciting to watch but he is not an elite level fighter at even a single element while BJ is easily one of the best boxers in MMA and is a world champion BJJ black belt with the best TD defense in the division.
This is pretty much dead on in every way. Theres just no chance of BJ falling to Diego.
---
Attero Dominatus.
Penn will have his hands full with this fight. Sure Diego was "brawling" in his last fight at times, but that was only because he landed the first shot and was looking to end the fight. You can't fault him for going for the kill, or call him sloppy.

His striking was cleaner in that fight than it has ever been, and after a feverish 1st rd. he settled in a picked guida apart.

Penn is at a different level than most fighters at 155 but he is not unbeatable. What Diego offers that no other fighter has at 155 right now is a very well rounded game and he excels in all areas. He is an excellent wrestler, has ko power, can ground and pound, good striking, and good submissions. He can end the fight from anywhere much like Penn can, just not at that level. The key factor to Diego's strengths is his explosiveness. Much like Penn can throw his flying knee, Diego can mount, throw a kick, land a big punch. It will be hard to hit penn, but I doubt Diego will be looking to simply wear Penn down like Florian.

Diego-Penn is very interesting, and far from a lock for Penn like some guys are calling it. Diego is a solid, well rounded, explosive fighter. He hands down, has the best chance of beating Penn right now, and I personally think he will.

Yesh!
BJ has superior striking in terms of power and having a good jab. Diego has better kicks though as we never see BJ throwing any and we have seen Diego land very well timed head kicks in the past. Diego has good hooks and uppercuts but is slow and ineffecive from range (watch the Koscheck fight for evidence of this), BJ has better close range hooks and uppercuts.

BJ is better at all aspects of grappling, end of. They have a comparably aggressive top game but BJ is much better at transitioning to superior positions after softening guys with punches. BJ has the best back control and ability to submit from the back in the UFC, better than Demian, better than everybody (for the record Demians guard is hands down the best in MMA). Diego's wrestling has never been that great, combine that with BJ's excellent TDD and the outcome is rather obvious.

Diego is without question a top 5 LW but BJ is superior at everything. I see Diego struggling in the future against the likes of Tyson Griffin, Maynard, Edgar and Sherk, basically anyone with excellent wrestling and good submission defence.
Featherweight
Join Date: Apr 2007
Location: Germany
Posts: 1,461
Quote:
You all know I am a BJ nuthugger. But to me, Diego is a serious threat to his title. He is a huge LW, bigger than BJ. And he has cardio for days.

He is a much stronger man than Kenny Florian and can push an even faster pace than Kenny. Not to mention, Diego's chin has proven to be rock solid against top WW's, unlike Kenny's.

If Diego uses the same strategy as Kenny, I think he can beat BJ. He is a better wrestler than Kenny, and if he uses Octogon control like Kenny did and just survive the 5 rounds. I could see him edging out a decision.

If you look at this fight from a distance, it looks like a bad matchup for Diego. He is fighting a superior striker, that he cant takedown. Very simlar to Kenny. But rumor has it that 2 judges had Kenny winning that fight (insane), but it cant be ignored.

I think if Diego can survive the early rounds, he has a good chance at winning a decision in the later rounds.

I know that is everyones gameplan. But according to sme judges it was working for Kenny. And Diego is a superior fighter to Kenny. Bigger, stronger, and just tougher.

I like both fighters, and will be rooting for BJ. I favor BJ slightly in this fight. But I wouldnt be shocked in the least if Diego managed to win this fight. In my eyes he is the 2nd best LW in the world without question. I liked him at WW, at LW he is a monster.

Remember this is coming from a BJ lover, ballwasher, nuthugger, whateva you wanna call me lol
I agree. I will bet on diego.
---
FightingIsBelieving

Nichts reimt sich auf Uschi!
Nothing rhymes on Uschi!

Wer ist hier noch Deutscher ausser mir?
People don't seem to understand how good Diego is on the ground. It took Marcelo Garcia (the best BJJ guy in the world) 9:59 minutes to submit Diego. Diegos sub defence is off the charts, and will probably be able to avoid being subbed by BJ if he doesn't get rocked.

On that note, BJ is a better striker that Diego will not be able to take down or rock. If it goes to the ground, BJ is better than Diego. And BJ's clinch is seriously underrated. I've got BJ via TKO or possibly RNC.
---
Forum Bets: 2-0
__________________________
Diego needs to set a mad pace from the opening bell, without getting reckless. If he keeps moving and makes BJ work for everything, I have little doubt he'll wear him out.

There is no "new BJ." He's awesome, but his conditioning won't be on par with Diego's. No way. Diego can win this fight, most likely by decision, if he's smart about it.

What he needs to avoid is falling into the same trap Sherk did, trying to outbox BJ instead of pressuring him. If he does, BJ will pick him apart and eventually submit him or knock him out.
Megaweight

Join Date: Apr 2006
Location: Everett, MA
Posts: 5,961
I want BJ to win.

Im just telling you guys now. This will be his toughest fight since dropping back down to LW by FAR!!!!
---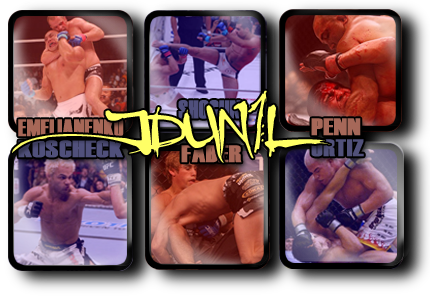 Mancrushes
1.Shogun
2.BJ
3.Fedor
4.Kos
5.GSP
Im in Porno's
Users Awaiting Email Confirmation
Join Date: Aug 2009
Posts: 26
I'm putting all my money on Penn. I bet against him every fight, and every single time, he proves me wrong.
Currently Active Users Viewing This Thread: 1

(0 members and 1 guests)
Posting Rules

You may post new threads

You may post replies

You may not post attachments

You may not edit your posts

---

HTML code is Off

---