Marcus Davis Vs. Ben Saunders At UFC 106?
---
Another fight for the card…

According to MMAJunkie.com, Marcus Davis (16-5 MMA, 8-3 UFC) and Ben Saunders (7-1-2 MMA, 3-1 UFC) have verbally agreed to fight at UFC 106. One of the fighters has already signed the bout agreement. Here is the rumored card for UFC 106, which is expected to take place Nov. 21 at Mandalay Bay Events Center in Las Vegas:

* Champ Brock Lesnar vs. Shane Carwin (for UFC heavyweight title)
* Mark Coleman vs. Tito Ortiz
* Kenny Florian vs. Clay Guida
* Ricardo Almeida vs. Jon Fitch
* Dustin Hazelett vs. Karo Parisyan
* Marcus Davis vs. Ben Saunders
* Phil Baroni vs. Amir Sadollah
---
"Nothing like a strangulation to get the circulation going."
Takedown, Dominate & Destroy


Join Date: Dec 2006
Location: Hawthorn, South Wales
Posts: 2,060
Sounds like a fun rebound fight to me. Marcus should run through Saunders by all acounts but he seems to have issues against guys with reach advantages but it will be a fun fight if it's true.
---
Top 7 Favorite Fighters at the moment
1. Forrest Griffin
2. Clay Guida
3. Shane Carwin
4. Jon Fitch
5. Chuck Liddell
6. Wanderlei Silva
7. Chris Leben
Megaweight

Join Date: Apr 2006
Location: Everett, MA
Posts: 5,961
Saunders got like 6 inches on Davis. I neva really liked Marcus and I hope Saunders works him.
---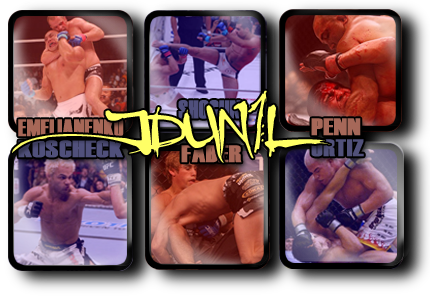 Mancrushes
1.Shogun
2.BJ
3.Fedor
4.Kos
5.GSP
Im in Porno's
I hope Davis wins this handily... but you never know. Saunders has some solid standup, plus he is fun to watch.

I just hope for an entertaining fight.
---
Flyweight
Join Date: Dec 2006
Posts: 238
I like both of these guys. Should definetly be a fun one to watch.
---
Favorite Fighter
Nate Marquardt
Chuck Liddell
Man this is Maia/Marquardt all over again for me. STOP TOYING WITH MY EMOTIONS DANA! :'(

Both of these dudes easily make my top 10, It'll be entertaining but it sucks to have to see one lose :\
Hell yeah am I looking forward to this one.
Just knocking on wood it really happens unlike some of the fight matchups they get my hope up with. Will Marcus be able to get Saunders down like Swick, or will he try to keep it standing and box?
---
Marcus Davis has much better hands, but i think saunders reach advantage will come into play quite a bit. I dont see saunders being able to clinch davis and bully him around. Ill go davis by ud.
Neither of these fighters intrest me but i'm sure Davis should have no problems winning this fight..
---

Sick Sig By Toxic
Aubrey Drake Graham & Michael Stevenson Are Genius's ♥
Currently Active Users Viewing This Thread: 1

(0 members and 1 guests)
Posting Rules

You may post new threads

You may post replies

You may not post attachments

You may not edit your posts

---

HTML code is Off

---