View Poll Results

: Could Drew Fickett be a force in the WW division?

Yes, he could be a force
1
11.11%
No, he can't beat the top contenders
8
88.89%
Voters: 9. You may not vote on this poll
Could Drew Fickett Be A Force In The WW Division?
---
Okay, I don't think I was the only one who thought Drew Fickett didn't stand a chance in this fight! I seen a lot of people on this forum betting some serious points for Karo! But he definitly gave Karo a run for his money!

So if Drew were to work on his stand-up and his ground game a little more, could Fickett be a force in the welterweight division?
---
You forget that this isn't just some brutal sport where everyones out to kill each other. Its much more like a game of physical chess.-looney liam
he basicly just got his ass kicked the whole time asides from the end of the second round, he pulled a matt serra and survived against karo
Flyweight
Join Date: Jun 2006
Posts: 302
No.

He's been around a lot longer than guys like Swick, Forrest, and Koscheck (Kos lost, but showed he was the better fighter) but they've all well surpassed him in terms of skill. Personally, I get the feeling that Fickett is satisfied with where he is right now.
hes got non decision wins over kos and neer, took karo to a decision. I have a feeling for a fighter who doesent take things all that seriously "the master" is very satisfied.
While I think Drew did an "ok" job in his fight agianst Karo, I don't think he is well rounded enough to go anywhere in the division. I see him spinning his wheels. One lose here, a win there...back and forth. The reason I say this was because Karo's performance was very spotty. In the first round Karo's stand up was questionable. He threw a lot of sloppy hooks and crosses (throughout the fight his jabs were pretty decent). The beginning and middle of round two was all Karo. He started off with a big take down and followed up with over a minute of G&P. His stand-up looked better during the beginning and middle of that round as well; landing some big strikes on Drew.


Drew did have a couple moments like when he had Karo on his back and was working his G&P, but it came to-little to-late for it to matter in the round.
---
"You can light a fire for a man and he will be warm for a day."
OR
"You can light a man on fire and he'll be warm for a lifetime."

My Top 6
BW = Miguel Torres
LW = Tyson Griffin
WW = GSP
MW = Gegard Mousasi
LHW = Lyota Machida
HW = Fedor
I thought Fickett showed a helluva a lot of guts and heart...yeah he took a beating but he didn't just stand there, he fought back the whole time and made Karo work for it. It also looked like he had Karo in trouble a few times in the second round and it could have very easily gone the other way. Karo certainly knew he'd been in fight afterwards that's for sure.

I think Fickett has the potential...somethings you cant train into a fighter and he's got it.
Megaweight

Join Date: Apr 2006
Location: Everett, MA
Posts: 5,961
too..weak..and.small
---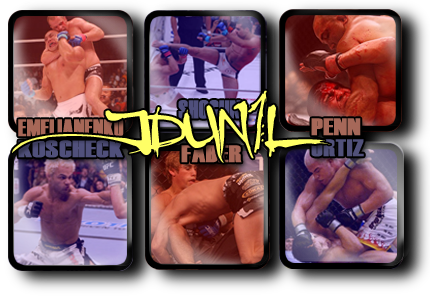 Mancrushes
1.Shogun
2.BJ
3.Fedor
4.Kos
5.GSP
Im in Porno's
Fickett has made some real improvements. I was surprised with his performance to be honest. He's not champ material but he could beat alot of stand-up guys.
No.
have him drop to 155... the WW division is stacked with too much talent for Fickett to be on the radar.
Quote:
Originally Posted by Green Scape
No.
have him drop to 155... the WW division is stacked with too much talent for Fickett to be on the radar.
good call
Currently Active Users Viewing This Thread: 1

(0 members and 1 guests)
Posting Rules

You may post new threads

You may post replies

You may not post attachments

You may not edit your posts

---

HTML code is Off

---