Your Favorite MMA Fight Of ALL-TIME?
---
i've seen a lot of great mma fights but i find it hard to choose my favourite, i love watching chuck fight but most of his fights end in the 1st round and arn't really fights i could say are the best in history, i want to hear your views on some of the greatest fights in the history of mma

how about royce gracie v dan severn or bonnar v griffin?, silva v yoshida 1 or barnett v nogueira ,may be fedor v cro cop, chuck v randy2..............there's too many
---
][/IMG]
if you never lose how do you know when you've won
---
Last edited by gibboeng9; 12-15-2006 at

10:07 AM

.
attention whore
Join Date: Oct 2006
Location: Branson, Missouri
Posts: 14,445
Frank Shamrock vs Tito Ortiz(UFC 22) is my favorite MMA fight of all time. Just a great chess match, where conditioning was the main piece to the puzzle. Frank was scary good when he's "on". There has never been another MMA fight that has engulfed me like Frank vs Tito.
---
---
Last edited by Damone; 12-15-2006 at

01:05 PM

.
Fedor Emelianenko vs. Mirko Filipovic.
---
"You can light a fire for a man and he will be warm for a day."
OR
"You can light a man on fire and he'll be warm for a lifetime."

My Top 6
BW = Miguel Torres
LW = Tyson Griffin
WW = GSP
MW = Gegard Mousasi
LHW = Lyota Machida
HW = Fedor
Megaweight

Join Date: Apr 2006
Location: Everett, MA
Posts: 5,961
Rogerio..vs.Shogun
---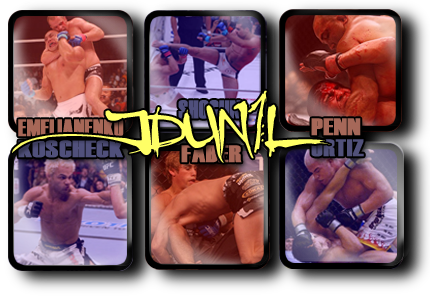 Mancrushes
1.Shogun
2.BJ
3.Fedor
4.Kos
5.GSP
Im in Porno's
Amatuer
Join Date: Dec 2006
Posts: 186
Rizzo vs Abbot.


Bonnar vs Griffin.
matt hughes v carlos newton the battle of the assholes
wandy v ramage
Flyweight
Join Date: Sep 2006
Posts: 279
Don Frye vs. Mark Coleman
Don Frye vs. Tank Abbot
Don Frye vs. Gary Goodridge - Goodridge gives an asswhipping from on top of Frye the entire fight until the very end when he gases, Frye reverses him and he taps before Frye can begin to unload. Shit had me lauging my ass off!
Quinton Jackson vs. Ricardo Arona - The best slam I've ever seen.
Antonio Noquiera vs. Mirko Filopric
Phil Baroni vs. Dave Menne - Best KO I've ever seen.
---
Embrace the pain...train hard bro...TRAIN!
Randy vs tito. Tito got spanked!
---
"The fat man flies at midnight"
MMA Fanatic
Join Date: Dec 2006
Posts: 27
I 2nd, Randy vs. Tito was one amazing fight. I can watch it over and over again.
MMA Fanatic
Join Date: Jul 2006
Posts: 26
karo parysian diego sanchez karo loses a tooth but one of the best i seen yet it was on spike a while back full of heart those two go on with it to a decision
Currently Active Users Viewing This Thread: 1

(0 members and 1 guests)
Posting Rules

You may post new threads

You may post replies

You may not post attachments

You may not edit your posts

---

HTML code is Off

---