View Poll Results

: Who wins the rematch - Dragon or Toyota?

Lyoto "Dragon" Machida
56
47.06%
Mauricio "Shogun" Rua
63
52.94%
Voters: 119. You may not vote on this poll
Dragon vs Shogun Rematch Poll
---
So we've seen a lot of opinions on last nights fight.

What a great fight(imo)!

Shogun definitely won some fans and Lyoto broke the curse of the undefendable LHW belt (just barely).

Now they've had a chance to get into one anothers heads, who wins the rematch and why?


I'm going to have to say Lyoto. I personally think he wasn't fighting his fight last night. I think his head was swollen from all of the hype, and he underestimated his opponent. He got lucky that he won, and I don't think he'll make the same mistake twice.

You?
I honestly think Lyoto does. That fight was razor close but I also think Lyoto kind of looked past Shogun, and he won't make the mistake again. Then again, I'm not counting Shogun out either at all. He showed a true return to form in that fight and definitely has the tools to challenge Lyoto's reign, probably more so than any LHW in the UFC right now. I don't think Shogun can really come with the same game plan he did in that fight and win because Lyoto trains with some of the best in the world and I find it hard ot believe that he won't evolve after that. I'm calling it another razor close decision though, with still more fans calling robbery, despite who wins.
I think Shogun will win it. He said that he would prepare the same way, but I don't buy it. Shogun adapted his style to this fight, and Machida didn't come with anything new. I think that they will both bring something different to the next fight, and that Shogun will come out on top again.
Lyoto will win imo. He's not gonna let Shogun kick him like that again. He will come in with a better game plan and win the decision.
---

Go Here!
OFFICIAL MMAF TWITTER
6 to 6 so far.
I tied it!
Go Machida!! lol
This was an easy call for me a day or two ago but after seeing shogun tear machida up, I don't know anymore.
---
If a law is unjust, a man is not only right to disobey it, he is obligated to do so. ~ Thomas Jefferson
Sig by D.P.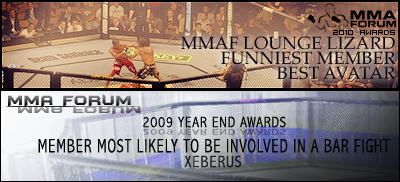 MMA Fanatic
Join Date: Sep 2009
Posts: 73
Banned
Join Date: Aug 2007
Location: banned
Posts: 0
Lyoto won the 1st he will be better and win the 2nd....
I don't think Lyoto looked past Shogun at all especially if you've seen his interviews. He knows he was the Grand Prix champ. What nobody knew was that Shogun would come out the way he did. If that Shogun we all saw last night fought Forrest, he would have obliterated em and Coleman. Shogun had em on the ropes and should have finished it, but that responsibility goes to his cornerman. Lyoto did enough to retain the belt. Still think Lyoto will win the rematch. He's too patient. Shogun might come out with reckless abandonment the 2nd time around and leave himself vulnerable which is a bit of a catch 22. He thought he was winning so he played it safe. Kinda like back when De La Hoya fought against Trinidad.

Suppose that's the difference between A. Silva and Fedor. These guys come to annihilate their opponent at will.
I say Machida. He seemed to be completely surprised by Shogun's gameplan/style. That won't be the case next time. He has 25 minutes of tape to study, and learn what he did wrong.

IMO, what he did wrong was being too defense oriented, instead of going on the attack more often. When he took it to Shogun, he did well.
---
Currently Active Users Viewing This Thread: 1

(0 members and 1 guests)
Posting Rules

You may post new threads

You may post replies

You may not post attachments

You may not edit your posts

---

HTML code is Off

---