Megaweight
Join Date: Mar 2007
Posts: 5,499
No way in hell, I would keep the belt. We aren't talking an SD here, all 3 refs saw it the same way.
Featherweight
Join Date: Mar 2007
Location: Calgary, AB
Posts: 1,066
Sorry but the only people talking about giving up the belt are fans are forum sites like this one.

There is 0 chance Machida will give up the belt. There is 0 chance it would even be considered.

Many people might disagree with the decision; including myself.

That doesn't change the fact that according to the 3 official judges Machida beat Shogun. End of story.
Flyweight
Join Date: Sep 2006
Posts: 299
Quote:
HELL NO, IF SHOGUN WANTED THE WIN HE SHOULD OF GONE FOR THE KO IN ROUNF 3 AND 4 WHEN MACHIDAS LEGS WHERE DONE BUT NOHE WAS A *** AND STAYED BACK COS HE WANTED TO TRY WIN A DEDISION ITS HIS OWN GOD DAM FAULT NO MORE SHIT TALK oF mACHIDA RaWr
Spell much?
Well im certain I would consider it, briefly, but no way. Champ gets paid
---
If a law is unjust, a man is not only right to disobey it, he is obligated to do so. ~ Thomas Jefferson
Sig by D.P.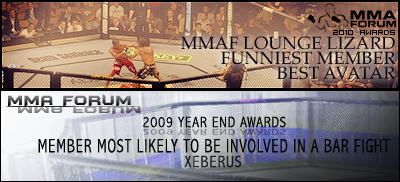 Currently Active Users Viewing This Thread: 1

(0 members and 1 guests)
Posting Rules

You may post new threads

You may post replies

You may not post attachments

You may not edit your posts

---

HTML code is Off

---