MMA Fanatic
Join Date: Sep 2009
Posts: 35
Ben Rothwell Says He Was Screwed At UFC 104
---
Quote:
There is nothing Brett Rogers can say from now on that can top Ben Rothwell's recent crazy remarks. First, I want to preface this by saying, I do agree with Ben Rothwell about the fact that the fight was stopped early. I even said so in our UFC 104 post-fight column, but I cannot figure out how anyone, including Rothwell, thought that fight was close or even that though Rothwell was going to mount comeback.

In an interview, Rothwell says the first round was extremely close and he was about to comeback when the fight was stopped. He says a lot more insane things, but I think I will let you read them for yourself. Prepare to laugh:

"So what he was punching me, big deal, isnít that what happens in a fight? The reality of the situation is that I was using the cage to get to my feet and which I basically did and then for some reason Steve [Mazzagatti] decides to step in. Honestly, I couldnít believe it. I mean if the punches had some force behind them I could understand it but those were like soft jabs that didnít hurt at all, it was like he was just hitting me to stay busy rather than damage me. That's is why I wasn't covering up Ė the punches didnít hurt and definitely weren't doing any damage, at least not enough to slow me down, but then he [Steve Mazzagatti] calls the fight? Please, my grandmother hits harder that that. Maybe it looked bad to those at home and to those who have never trained but I had worked back into standing position and was ready to fire back some of my own, so how bad could the punches have really been? Come on, if you would have seen me the next day youíd have hardly thought I was in a fight - I woke up the next day with barely a scratch on my face. Look at some fights I have had in my career, Iíve been in plenty of worse positions and managed to turn the fight around and win.

You know Shogun wasn't the only one robbed that night. So what If I lost the first round by a small margin, all that meant is there were still two rounds up for grabs, my shoulders were just loosening up at the beginning of the second round - the real fight was just getting started. Look, I don't want to make this sound like I'm taking anything away from Cain, he's a great fighter, probably one of the best in the heavyweight division at the moment. I just feel like I've been working my entire career to get this shot in the UFC, only to have it taken away from me by an incompetent referee. Losing is one thing but to have such a big opportunity taken from you? I'm disgusted.

That's [getting up from his back] what my wrestling coach [Peter Senerchia] and I had worked on before the fight. Each time he took me down I made my way to the fence and got back to me feet like we planned. I had so many different tools in my arsenal that could have led to a victory but I feel like I didnít really get a chance to show them, that the fans didnít get a chance to see what Ben Rothwell is all about. Iíd have loved to have knocked Cain out and I really feel like I could have, but we all know what happened there. The worst part is I figured out early that Cain is a decent wrestler and was taking me down a lot quicker than I anticipated so I basically told myself the next time Cain takes me down Iím going to forget about the knockout and submit him. I have great jujitsu and great submissions but people donít realize this because I donít call on these skills too often because my hands are so devastating. Anyway, sure enough Cain managed to take me down and pressed me up against the cage. I had a standing arm lock (kimura) basically given to me on a silver platter that I was setting up and Mazzagatti went and stole it from me. It was like he stole Thanksgiving day dinner from me right from underneath my nose. Iím still feeling really pissed off about this fight and I really feel like Cain didnít beat me, poor officiating did.

You feel as ripped off as I do, let me apologize, but I also want all you people to know that next time I step in the cage no ref is going to steal anything from me and tell me what fight I didn't win, Iím gonna take matters into my own hands and put some people to sleep, bank on itĒ

- mmaposers.com
Sound off people... how crazy is Rothwell?
Super Heavyweight

Join Date: Sep 2008
Posts: 4,364
It looked like a really bad stoppage and I was close to irate when I first saw it but then after seeing a replay I think it was warranted. Rothwell just paused and stood there letting Velasquez punch him in the face a few times, he wasn't defending himself and the ref started coming in to stop the fight because of it. Just as the ref went to stop the fight is when Rothwell finally did something and pushed himself up.

Not the best stoppage but if you want the fight to keep going you can't just stand there letting a guy tee off on your face.
Amatuer
Join Date: Sep 2009
Posts: 188
Probably not so much crazy as self promotional. No problem here with the stoppage.
I was one of the only ppl on this forum right after the fight saying it's wasn't a horrible stoppage. I mean just before the second round started the ref told him I won't let you take shots like that anymore if you don't defend well and then he got run over by a bulldozer and took shot after shot standing there and then decided to stand after the ref started moving in to stop it.

Tough balls for him...he should have attempted to move more and push Cain off or something!

So I disagree with everything he said, even though I bet on him to win.
---
1. BJ "The Prodigy" Penn
2. Dan "Hollywood" Henderson
3. George "Rush" St Pierre
Lightweight
Join Date: Jan 2009
Posts: 1,858
Azzagatti has had suspect judgment from day one. HOWEVER. You did see him issuing a warning to Big Ben at the conclusion of Rd. One. He clearly stated to Rothwell that if he didn't protect himself, he would stop the fight.

Guess what. Rothwell didn't protect himself and Azzagatti stopped the fight. Was it a great stoppage? No. But was Rothwell defending himself either? No.
I wonder how often a ref would comply if a fighter asked him "I don't want you to stop my fight early, make sure im out or I tap, no stoppage due to strikes or submission before im ready"
---
If a law is unjust, a man is not only right to disobey it, he is obligated to do so. ~ Thomas Jefferson
Sig by D.P.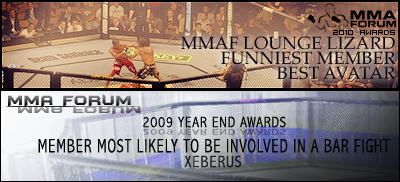 MMA Fanatic
Join Date: Sep 2009
Posts: 35
Quote:
I wonder how often a ref would comply if a fighter asked him "I don't want you to stop my fight early, make sure im out or I tap, no stoppage due to strikes or submission before im ready"
Miguel Angel Torres tells all the refs before the bout not to stop the fight unless he is out cold, which could explain the few extra punches he took from Brian Bowles, but if the ref is good, he will not actually take into account anything a fighter says before a fight about when to stop it. Nor should they.
Light Heavyweight

Join Date: May 2007
Location: Melbourne, Australia
Posts: 3,474
Quote:
I wonder how often a ref would comply if a fighter asked him "I don't want you to stop my fight early, make sure im out or I tap, no stoppage due to strikes or submission before im ready"
I don't think it would happen much at all. The ref would lose his license.
---
Quote:
Originally Posted by jdun11
This is by far the easiest and safest pick of the year in mma.
Quote:
Originally Posted by jdun11
Nog's only chance is one of his miracle submissions, after taking a beating the entire fight.
Quote:
Originally Posted by jdun11
But its not gay if you watch it with a hot chik.

This wasnt actually a bad stoppage by any stretch of the imagination. Along with the things already mentioned above, Mazz started to step in a split second before Rothwell started to stand up.
Great stoppage. He should be glad that ref stopped it cause he was gonna take a massive beating for the rest of the fight.
---

Go Here!
OFFICIAL MMAF TWITTER
Currently Active Users Viewing This Thread: 1

(0 members and 1 guests)
Posting Rules

You may post new threads

You may post replies

You may not post attachments

You may not edit your posts

---

HTML code is Off

---