I'm not so sure they're going to be rushing Couture to a title shot, the last promo UFC did was that 'he isn't fighting to try and get a belt, he's fighting just to fight' or something along those lines.

Although if they think it will be a big money maker and can slightly justify it....
---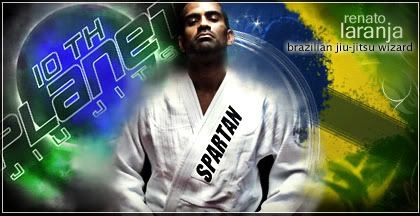 "You have a big word for a guy who don't have a gi right now." - Renato Laranja
Curitiba Food and Liquor

Join Date: Dec 2006
Location: NY
Posts: 16,176
The only way I won't be happy to watch Randy fight is if he takes a hard right to Ken Shamrockville.

I could watch that man clinch and/or dirty box all freakin day.
---

Sig Credit to Toxic

Featherweight
Join Date: Mar 2007
Posts: 1,221
Wow, I am surprised these two would fight. Didn't they train together for the Trojan War?
---
Team Stand Alone #1
Jesus christ, what has happened to the UFC? Just when it begins to get uber-popular, they seemingly go out of their way to make awful PPV.
I've actually wanted to see this fight for years. Its nothing I've been dreaming of, but it has always interested me a bit.
I love Randy but just thinking about this match-up is making me fall asleep.
Flyweight
Join Date: Apr 2007
Location: London
Posts: 213
I'm actually quite looking forward to this fight. These two should have fought for the title years ago and it's good to see that it's finally gonna happen.

Yes it's T-Rex vs Diplodocus, yes it does nothing for the division but for a fan boy of the sport whose been following these two fighters careers from day one I think it's great that they're finally meeting.
I eat babies
Join Date: Jul 2006
Location: Troy, Ohio
Posts: 7,647
Hell yes. Just the other day I posted in a thread how this fight needs to happen. Most of you guys don't sound thrilled but I am a fan from the old school and this matchup has been a looooong time coming. It was supposed to happen like probably over a decade ago and never did (can't remember why anymore). It's about time it happened, however I don't care who wins, and I fully expect it to be boring as hell.
Quote:
Originally Posted by
xbrokenshieldx
View Post
Wow, I am surprised these two would fight. Didn't they train together for the Trojan War?
LOL good one
Currently Active Users Viewing This Thread: 1

(0 members and 1 guests)
Posting Rules

You may post new threads

You may post replies

You may not post attachments

You may not edit your posts

---

HTML code is Off

---