Wanderlei Silva vs. Michael Bisping Possible to Headline UFC 110 in Australia
---
Wanderlei Silva, who had been expected to meet Yoshihiro Akiyama in the main event of UFC 110 on February 21 in Sydney, Australia, is now likely to make his middleweight debut against Michael Bisping in the UFC 110 headliner, as Fighters Only reports that the pair have verbally agreed to the bout.

The matchup between Silva and Akiyama was first reported in October, but was put in doubt last week when UFC President Dana White revealed that the promotion was "moving things around" following a rash of injuries suffered by many of their top fighters.

Silva (32-10-1), the former PRIDE 205-pound champion, followed up a May 2008 knockout of Keith Jardine with back-to-back losses to Quinton "Rampage" Jackson and Rich Franklin, but heads to middleweight for a fresh start after dropping five of his last six fights.

Bisping (18-2), the winner of The Ultimate Fighter 3, dropped down to middleweight in 2008 and won three-straight before suffering a knockout loss to Dan Henderson in July. The bounced back earlier this month with a second-round TKO of Denis Kang at UFC 105 in his native Manchester, England.

UFC 110 is also rumored to include Dong Hyun Kim vs. Chris Lytle, Mirko "Cro Cop" Filipovic vs. Ben Rothwell, and Stephan Bonnar vs. Krzysztof Soszynski, while a middleweight matchup between Nate Marquardt and Chael Sonnen originally reported for the card has been shifted to UFC 109.

For the latest UFC 110 rumors and UFC news stay tuned to MMAFrenzy.com
I really hope Bisping tries to stand and strike with Wandy like he did with Henderson, that would be orgasmic.
---

Light Heavyweight
Join Date: Nov 2008
Location: NC
Posts: 3,059
Hahaha poor Bisping. I am itching to see Wandy murder someone.
---
Attero Dominatus.
Featherweight
Join Date: May 2007
Location: Pryor Oklahoma
Posts: 1,065
Like the Vera Couture fight where someone said Vera would knock out randy, Im waiting for someone to say Bisping is gonna knock him out. Bisping is gonna take another nap. He does not have the power to knock Wandy out but he can pick him apart if he plays it smart. I hope and pray for a silva win.
Bisping can't stand with Wand, he'll get KO'd. He's smarter then that though, think it could go the distance with Mick pulling off a decision...
---
Sjung för gamla Djurgår'n
Lock the gates, make them watch...
Only chance for Bisping is a decision or somehow take Wand down and use his GnP. Wand will prob knock Bisping out if they stand. Should be good if Bisping keeps to his word and goes back to his old aggresive style.
I'm hoping to see the PRIDE Wand regardless of who he fights.
I guess this is a good thing since seeing Bisping get KOed is still fun unlike seeing Wandy get KOed which has gotten sad and would have happened if he fought Sexyama. I hope the sexy one gets another fight soon though.
Oh man. Lets go Wand! Can't wait for this.

Also yay, some Chris Lytle action.
---
Fav. Fighters
Wanderlei
"The Axe Murderer"
Silva
Antonio Rodrigo
"Minotauro"
Nogueira
Ken
"You got kicked. By a kick."
Shamrock
WAR The CroCop!
I could care less = you care

I couldn't care less = you don't care
*pounds fist*

BRUTAL!!!

*pounds fist*

KO!!!
---
If a law is unjust, a man is not only right to disobey it, he is obligated to do so. ~ Thomas Jefferson
Sig by D.P.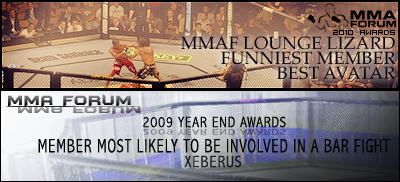 Currently Active Users Viewing This Thread: 1

(0 members and 1 guests)
Posting Rules

You may post new threads

You may post replies

You may not post attachments

You may not edit your posts

---

HTML code is Off

---