Diego will rush in wildly in the first two minutes, get caught with a big right, and rick flair faceplant in the middle of the octagon. Then we can hear all about it at bjpenn.com. Diego has the best chance to beat BJ since Kenny had the best chance right.
Quote:

With that being said though... I don't think Penn's jitsu is much better offensively than Diego's. .
Your probably right I mean the diffrence between a guy who is a world champion black belt and another guy who is a brown belt shouldn't be that much should it?
Amatuer
Join Date: Sep 2009
Posts: 188
I hope they stay on their feet for the most part so Diego can take full advantage of the "Serra" factor.

And while I don't think BJ would destroy Diego on the ground he would have advantage.
Megaweight
Join Date: Mar 2007
Posts: 5,499
For me the Florian fight was a message that BJ was sending to everyone. He is known as a guy who finishes in the first round or not at all. He let the fight go into the later rounds. Rewatch the fight and look at BJ while they are up against the cage. He isn't fighting, he is just there bored letting time tick by and his corner keeps talking about it going according to plan. Then when he wants to finish the fight within a minute he has Kenny tapping like a fool.

I think BJ wins this because the real BJ is here. The one we have been waiting for and only seen glimpses of in the past. BJ has better stand up, but both have some insane chins so I really don't expect a KO. I think this stays standing until Diego tries to take it to the ground. BJ sweeps during the TD, ends up on top and wins via RNC.
...I'm not counting Diego out but his chances are slim...
---
...We all know in this sport anything can happen. Diego Sanchez has to bring it like never before. I think the only way Diego can win is to try and knock B.J. out, which is nearly impossible. Penn would have to eat multiple flush shots on the chin to get dropped. It won't happen. Penn is too slick and elusive. B.J.'s takedown defense & dexterity is insane.
...Diego's best chance is to not shoot in & keep it on the feet hoping he can get Penn to gas. If B.J.'s cardio is like it was with Ken-flo, he won't gas. If it somehow goes to the ground, Sanchez is toast. Diego has very good ground skills but B.J.'s is world-class and then some. Sanchez, like Ken-flo pushes a blistering pace but I still see B.J. retaining his belt. Penn is just too damn good...
Quote:
The fact that i haven't heard a peep from pen since the Florian fight tells me hes motivated and training hard . And no lightweight can beat a well trained motivated Penn IMO. Diego is tough hes gonna give BJ a run but i think Penn will take it
well bj video blogs on his website. you can catch him pretty relaxed and calm in his videos.
Curitiba Food and Liquor

Join Date: Dec 2006
Location: NY
Posts: 16,176
Quote:
well bj video blogs on his website. you can catch him pretty relaxed and calm in his videos.
Hopefully because he's beat from working his ass off in the gym for 6 hours every day.
---

Sig Credit to Toxic

Flyweight
Join Date: Oct 2009
Location: Buffalo, NY
Posts: 342
Quote:
Diego's only two losses were to upper tear welters and he has looked pretty damn dominant in his last few fights at lightweight. People are acting like BJ has reached some type of Spider/Rush dominance
.
I just dont see it.
Id say Diego probably has the best chance of dethroning penn out of all of the current lightweight crop, and at this point in time has a tremendous amount of momentum.
All im saying is I wont be surprised if the nighmare walks away with the title.
How will diego beat bj? Will he be able to take him down and GnP? Will he get the better of the standup?
I think the answer to these questions is definitely NO. Diego has a great pace and phenominal cardio but I wouldnt bet on bj penn gassing anymore, he is a true champion at this point in his career.
The only chance deigo has IMO is to constantly push for TDs like kenflo did and hope to outwork him for a decision, but bj's TDD and boxing are way too good to allow this to happen. Should be a good fight though, sanchez is definitely among the top 3 LWs contenders, and is probably the best of them.
BJ's only loss in the LW division was to Jens Pulver in 2002. He has continuosly challenged himself by fighting the best at the WW level, hell he even fought Machida who outweighed him by 30 pounds. Diego's best chance is to KO him and that is highly unlikely. If Diego takes him down for GnP, BJ has shown repeated time after time that his guard is a force which most fighters cannot overcome. I think this is going to be a great fight, Diego's conditioning and prep for a fight is top level, I just don't think he has enough skills to overcome BJ.
---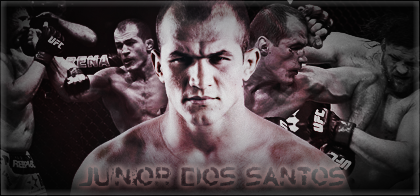 Bantamweight
Join Date: Mar 2009
Location: Ottawa
Posts: 937
Quote:
How the hell can anyone think Kenny was winning the stand up? Everytime KenFlo tried to engage he paid hard and was sent retreating with his tail between rubber leg, BJ was destroying Kenny in the stand up, he also was beating GSP pretty convingly in there first fight.
I think the first round of GSP Penn 1 is one of the most, if not the most, overrated rounds in MMA. Penn breaks GSP's nose early, and there is blood all over, and GSP is visibly uncomfortable. But after that one punch, BJ never lands another significant shot, and never hurts GSP again. If Penn was beating GSP convincingly in this fight, then Brett Rogers was beating Fedor convincingly in their fight according to the same logic.
To get back on topic, I think Penn is a very good striker, and he will beat Sanchez, although it will be a close fight.I just don't think that round is as good an example of Penn's striking as people seem to think it is, I would look at other fights like Sherk for consistently dangerous striking from BJ.
For Sanchez to have a chance, he absolutely must get the fight to the late rounds. I don't see Sanchez finishing Penn early, even with a lucky punch because of BJ's chin, but BJ can posture all he wants about his conditioning, I still don't trust him to handle the late rounds. Sanchez might eke out a decision or get a late stoppage if he pushes the pace hard. BJ has mad skills, but he is lazy, he can be made to give up. Not likely, but thats how Diego can win.
Currently Active Users Viewing This Thread: 1

(0 members and 1 guests)
Posting Rules

You may post new threads

You may post replies

You may not post attachments

You may not edit your posts

---

HTML code is Off

---