How come nobody here thinks Diego has a chance in hell?
---
Diego's only two losses were to upper tear welters and he has looked pretty damn dominant in his last few fights at lightweight. People are acting like BJ has reached some type of Spider/Rush dominance
.
I just dont see it.
Id say Diego probably has the best chance of dethroning penn out of all of the current lightweight crop, and at this point in time has a tremendous amount of momentum.
All im saying is I wont be surprised if the nighmare walks away with the title.
I eat babies
Join Date: Jul 2006
Location: Troy, Ohio
Posts: 7,647
BJ Penn is my favorite fighter of all times. Most people on the forum know my love for Penn. But I have to agree that people aren't giving Diego enough credit. I have been wanting to see this fight for a long time now. Back when Diego and BJ were both at 170 I remember telling people on here that I was nervous about that potential match-up because I think Diego might have won back then. Now it's at 155 and I'm just pumped to see a great fight. I think Diego has a much better chance at beating Penn than some people let on, but I hope it doesn't happen.
Diego has a good chin and is an aggressive fighter, I really think he'll bring it and give Penn a fight. Thing is BJ is so incredibly well rounded that it may not be enough. Still, damn interesting fight though, looking forward to it, hopefully it wont reach a boring stalemate.
---
Sjung för gamla Djurgår'n
Lock the gates, make them watch...
How does Diego win? He will get out-boxed by BJ and there is no way BJ gets KO'd. BJ is dangerous off his back if he gets taken down, and will very likely secure a submission if he gets top control. I really don't see Diego winning anyway besides a decision. BJ has a lot of ways he can win the fight.

Now I do see Diego putting up a good fight and laying down some punishment on BJ before he gets submitted in the 3rd round.

After this fight I do hope to see Diego and The Bully square off, that fight will have fireworks.
---
"Yeah, well, you know, that's just, like, your opinion, man."
Light Heavyweight
Join Date: Nov 2008
Location: NC
Posts: 3,059
He doesn't have much of a chance due to BJ being better than him... at everything. BJ is the better striker, has better take down defense, has the superior ground game, has a better chin, and can out shine Diego anywhere this fight goes.
---
Attero Dominatus.
It's MMA so anything is possible (see Serra, Matt), but I just can't see a way for Diego to logically win.

Standing: Diego is a brawler with very little in the way of technical striking. BJ is one of the most technical boxers in the division. If BJ has his jab going like he did in the Sherk fight it's going to be a long night for Diego. Also don't go looking for a lucky shot, BJ's chin is epic.

Wrestling: Diego's GnP is his best weapon unfortunately for him he has poor technique on his takedowns. Even worse news is BJ has arguably the best take down defense in MMA. BJ doesn't have great take downs, but he does a good job of using his striking and timing to setup the double leg.

Grappling: BJ has the best ground game in the division by far. He's never submitted anyone from the bottom, but I don't think that's from lack of ability. He rarely goes for subs from the bottom, he just uses his excellent guard to get back to his feet. Only 2 guys have really been able to keep BJ on the ground and they were arguably the 2 best top fighters in MMA history (Hughes and GSP).

So yes, this is MMA and anything can happen, but that doesn't change the fact that Diego is rightfully a big underdog.
Well I just don't see diego beating penn. I mean where is he better? Penn is the better striker, more powerful striker, better grappler. Sure diego might have better wrestling but I don't see him getting Bj down.
---
If a law is unjust, a man is not only right to disobey it, he is obligated to do so. ~ Thomas Jefferson
Sig by D.P.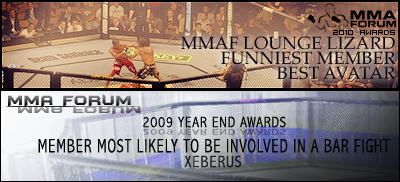 I eat babies
Join Date: Jul 2006
Location: Troy, Ohio
Posts: 7,647
We all know that Penn is better in every aspect compared to Diego, but that can be applied to ANYONE Penn fights at LW in the UFC. The point is Diego is about as close as a LW can get to matching BJ's strengths.
Bantamweight
Join Date: Jan 2008
Location: Ireland
Posts: 595
The fact that i haven't heard a peep from pen since the Florian fight tells me hes motivated and training hard . And no lightweight can beat a well trained motivated Penn IMO. Diego is tough hes gonna give BJ a run but i think Penn will take it
It's as simple as BJ is just better in every area (besides wrestling) than Diego. And when Diego tries to take him down...which he eventually will be able to do in the later rounds, BJ has na insane guard (not to mention a ******* beautiful rubber guard...that he rarely uses) and he will neutralize any of Diego's GNP.

Only thing I may give to Diego is conditioning, but BJ clearly doesn't have a problem with that anymore.
---

Currently Active Users Viewing This Thread: 1

(0 members and 1 guests)
Posting Rules

You may post new threads

You may post replies

You may not post attachments

You may not edit your posts

---

HTML code is Off

---