Homicidal Maniac

Join Date: Apr 2007
Location: Houston, Texas
Posts: 6,193
Quote:
Serra has one submission win in the UFC, back in 2002... His ground game is highly overrated by many.
lol, do some research on serra's ground game, you might be surprised, Serra actually has one of thee most underrated ground games.
I would actually give serra a win vs hardy and kos, hardy because IMO he is not that great of a fighter and kos for on the feet even though i think kos is becoming a good striker i give serra the power in the hands, on the ground kos would be neutralized on what ever he did
---
Over! 2,000,000 Views!
Amatuer
Join Date: Sep 2009
Posts: 188
Should be an entertaining fight. Go Serra!
Lightweight
Join Date: Jan 2009
Posts: 1,858
Matt Serra simply doesn't have the reach to be a consistently effective striker at WW. GSP for example, has/had an 8" reach advantage when they fought. It's the same with Sherk: he can train all the stand up he wants, but if he can't physically reach his opponent, it's pointless.

About Serra's ground game. His TDD is essentially non-existent. Granted, Matt Hughes and GSP are great wrestlers, but both were able to take him down, basically effortlessly, and hold him down for extended periods while inflicting significant damage.

He's reasonably adept at avoiding damage while on bottom, but again, his short reach makes it very difficult for him to maneuver for submissions or to lock them in and generate effective torque.

Bottom line: he's just too short and has inadequate reach to effectively compete with top level contenders at 170 lbs.

But I can understand why he won't drop down to 155: he's tasted too much success at 170: that's what a world championship does for your confidence.

Either Serra wins this one, or it's time for him to drop down to 155. Trigg is pretty much bottom of the barrel in the WW division at this point.
---
Last edited by michelangelo; 11-26-2009 at

02:45 AM

.
I think Serra is gonna rock him and finish him with a read naked choke. You heard it here.
---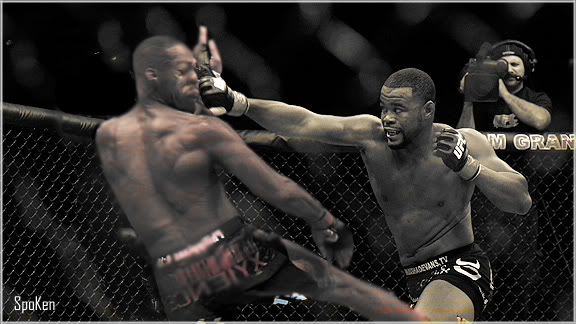 Sweet sig by Life B EZ
I feel like I get paid way to much money, but not enough -Nick Diaz
I think Serra will take this one by sub in the second round. Triggs sub defense has always been pretty questionable and Matt Serra is one of the most active fighters on the ground, especially if he has top control. He is a legit black belt, i think its under Renzo Gracie.
Is Serra still on his TUF contract? if so I make this his last fight on that deal.
---
Member of the Anti-Fitching Society. Stop Fitching and Fitchery in MMA now!
-------FREE CHARLIE Z-------
FFL
'Roudy' Ronda Rousey, Fabricio Werdum, Vyacheslav Vasilevsky, Eric Koch, Alexander Sarnovsky
I like this match-up a lot, i even suggested it after Kos vs Trigg.

And about Serra's ground game, he might be a black belt all he wants but so far in MMA he hasn't been able to use it to finish fights, sure he's good avoiding damage from the bottom but he's still going to lose decisions with such a gameplan.
---
War Serra!
---
Sjung för gamla Djurgår'n
Lock the gates, make them watch...
Lightweight
Join Date: Nov 2006
Posts: 1,911
Quote:
What in the hell? Apparently, I'm the only one who could care less about these recent retirement matches. If I wanted to watch has-beens fight, I'd watch TNA Wrestling.
No kidding. Fight like it is 1999! Presumably they are trying to give Serra a win and figure Trigg is his best shot. Serra still might lose to him though. I guess Serra is the favourite here, not that it matters. Anyone in the top 20 beats both these guys.
I'm amazed people still think Serra has a chance to beat anyone of note. He does NOT have any power. He has one TKO win in 15 fights and he is a power puncher? Really, how does that work? Last time I checked people who hit hard occassionally knock people out or TKO them. Serra does not. His ground game is great....in pure BJJ. In MMA it is average at best, he hasn't subbed anyone with a clue or even come close to it. There is no top 10 fighter that wouldn't smash Serra.
---
Last edited by Drogo; 11-26-2009 at

09:23 AM

.
Serra at LW is a beast, at WW he lacks the size and reach. I wanted him to return LW right after he lost the belt to GSP, but he wants to stay at WW so I just have to respect his decision. Either way Trigg isn't the guy that beats him, however Kos and Fitch are because of their wrestling.
---
"When I land that left hook, the fight will be over."
-Paul Daley (He called it!)
Currently Active Users Viewing This Thread: 1

(0 members and 1 guests)
Posting Rules

You may post new threads

You may post replies

You may not post attachments

You may not edit your posts

---

HTML code is Off

---