Demian Maia "Nate Marquardt didn't knock me out"
---
Quote:
"Actually I was conscious, I wasn't knocked out, it was a knock down. A lot of people say that what he have done was nice, because he didn't hit me on the floor. Maybe was that. But maybe he stopped because, if he misses the punch, I would tangle with him and the fight would still going on."

"The defeat had a good side: as I'm a few steps away from the fight for the belt, and as Anderson said that he will retire in three fights, maybe I won't face him anymore. Rodrigo and Rogério are big friends of mine for a while, but I didn't train with them to not to cause embarrassment because of their relationship with Anderson. But now I've accepted the invitation working the boxing with them, with Dórea, Cigano (Junior dos Santos), and keeping the rhythm of training of Jiu-Jitsu with them too."
I think that the highlighted text is a bit rude on his part. If Nate landed that punch and didn't stop, Maia wouldn't of been sleeping for a long time.
http://mmabay.co.uk/Story%2003637.html
(I'll get the link for the original source shortly)
---
Big Thanks to KryOnicle for the sig!
Fav Fighters

HW: Frank Mir
LH: Lil Nog
MW: Bisping
WW: Hardy
LW: Ross Pearson
I really like Maia but he's delusional if he actually believes that. The only reason Nate pulled back was so he didn't smash his face into little pieces not because he was afraid lol.

I guess fighters gotta tell themselves these type of things to keep their confidence up.
He might no have been out but he was definately past the point he could inteligently defend himself, it was comparable with the Fedor - Rogers knockdown.
---
Nate is a beast and he held back after the "knock down" so he wouldnt hurt him further, Demian is an idiot if he believes otherwise..
Heavyweight

Join Date: Sep 2007
Posts: 3,705
I think someone is trying to take Tito's spot on the excuses. I hate it when fighters do this, you lost, have some respect for your opponent that kicked your ass and dont say shit like this.
I would agree he wasn't KO'd, and he MIGHT have survived if it went on, but Nate was about to drill him in the back of the head, and it was properly stopped.
Didn't really expect something like that from Maia.
Damien was rocked HARD, while he was not out cold and stiff he was well on his way there.

I really doubt Nate didn't follow up with another punch because he was afraid of getting caught in a sub. He just didn't want Damien to get "Bisping'd".
**** maia, he was more than done, lost a lot of respect for him.
---
If a law is unjust, a man is not only right to disobey it, he is obligated to do so. ~ Thomas Jefferson
Sig by D.P.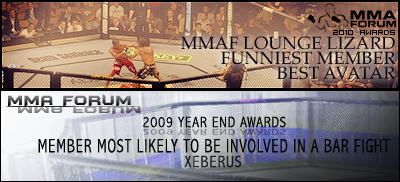 Quote:
**** maia, he was more than done, lost a lot of respect for him.
I don't see how Maia could have "tangle with him", if Nate continued Maia would have been uncouncious or Nate could have grabbed on to his neck and choke him out if he wanted to, imagine Maia taping out to Nate haha.
---
Right kick, Hospital.
Left kick, Cemetery.
-Mirko Cro Cop.
Currently Active Users Viewing This Thread: 1

(0 members and 1 guests)
Posting Rules

You may post new threads

You may post replies

You may not post attachments

You may not edit your posts

---

HTML code is Off

---