Most akward staredown in UFC history occured earlier today 12/4/09
---
Both guys look like they seem to regret ever being mad/mean in the first place.

It looks like one of those moments in a family sitcom where the oldest son and his best friend are mad at one another and then they make up.
I really don't want to see this fight
My boy hammill is going to... he's going to... hes gonna beat... jon's ass..
No I'll not sig bet on it, and yes I have credits on bones, but matt is going to win goddamn it
---
If a law is unjust, a man is not only right to disobey it, he is obligated to do so. ~ Thomas Jefferson
Sig by D.P.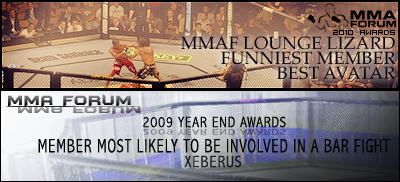 Light Heavyweight

Join Date: May 2007
Location: Melbourne, Australia
Posts: 3,474
Who is that black dude in the background? lmao
---
Quote:
Originally Posted by jdun11
This is by far the easiest and safest pick of the year in mma.
Quote:
Originally Posted by jdun11
Nog's only chance is one of his miracle submissions, after taking a beating the entire fight.
Quote:
Originally Posted by jdun11
But its not gay if you watch it with a hot chik.

Didn't Jon Jones do something weird in his last stare down as well? +rep for the 1st person who remembers.
---

Go Here!
OFFICIAL MMAF TWITTER
If he struggles really hard with Hamill but still wins, I wonder what his hypetrain will be like?

If he loses I predict it derailing pretty hard but the guy still obviously has a lot of potential.
Super Heavyweight

Join Date: Sep 2008
Posts: 4,364
at dana giving them that disappointed uncle look as if to say "sell the fight bitches"
---
To Live is 2 suffer, 2 survive? well that is 2 find meaning in the suffering
Haha nah I remember Bones saying that he believes that looking into his opponents eyes before the fight gives them his energy.
BTW Is it just me who love to see a Jones v Wanderlei staredown?
---
Thanks to limba for this AWESOME sig
Currently Active Users Viewing This Thread: 1

(0 members and 1 guests)
Posting Rules

You may post new threads

You may post replies

You may not post attachments

You may not edit your posts

---

HTML code is Off

---