Amateur
Join Date: Sep 2007
Posts: 194
Marcus Jones Appreciation Thread
---
This guy deserves his own thread. He's one of the only reasons why this season was as enjoyable as it was. I also hope he beats Matt Mitriones ass in the finale.
Agree, he was one of the most interesting guys this season, and he looks like an insane athlete, imagine how much of a beast he would be had he started training at his 20´s
---
I'm all about this thread. I was a big Marcus Jones fan before he even started MMA. I watched him play for the Bucs and he was a beast. He got 13 sacks one year. If only he had decent striking, then he would be a huge threat in the HW division.
---

Go Here!
OFFICIAL MMAF TWITTER
same , i like the guy
---
If a law is unjust, a man is not only right to disobey it, he is obligated to do so. ~ Thomas Jefferson
Sig by D.P.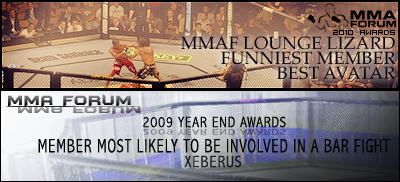 for sure marcus is awesome. nicest guy in the world unless you piss him off then youre going to lose a few limbs
---
"That's why I don't trip over bein a celebrity. Cause one minute they all love you, and the next thing you know, you're in front of that court house dancin on top of a car just trying to figure out what the f*** happened to you" -Dave Chappelle
Banned
Join Date: May 2009
Location: parts unknown
Posts: 2,638
"Friends, Flowers, Football and Fighting" on sale soon at a bookstore near you!!!

Even tho "Darkness" is a cool nickname (but it always reminds me if David Chappelle as Rick James calling the Murphy brothers "darknesses"). He should really just go with "Big Baby" from now on.
---
Last edited by alizio; 12-05-2009 at

01:18 AM

.
+rep for this fine thread.

I'm pretty sure he'll take Mitrione down and destroy him.

Like malice said, he was one of, if not the only interesting part of this season. He's cool as shit, wouldn't hurt a fly unless you're in the octagon with him (or injure a friend of his) and he doesn't have this phony machismo a lot of them have....he's just himself.

Also, he could break me in half with minimal effort.
I like him as a fighter, he's a beast once he's on top of you... but he's a goddamn psycho!

I bet a shrink would have a lot of fun diagnosing him.
---
Rookie Hammer Squad 2015
Frankie Edgar - Dominick Cruz - Jorge Masvidal - Cat Zingano - Holly Holm
Marcus "Big Baby" Jones: the nicest man on Earth that will kill you and rip you to shreds in the process.
Currently Active Users Viewing This Thread: 1

(0 members and 1 guests)
Posting Rules

You may post new threads

You may post replies

You may not post attachments

You may not edit your posts

---

HTML code is Off

---