View Poll Results

:

0
0%
Voters: 0. You may not vote on this poll
attention whore
Join Date: Oct 2006
Location: Branson, Missouri
Posts: 14,445
Was a good fighter who helped the sport grow. Definitely an influential fighter, who had one of the all time best training camps (Lions Den). He had swank sideburns, too. I mean, sure, he has been in 3 of the worst fights ever, but that doesn't mean he can't be entertaining. I dug the hell out of his fights with Kimo (Ken going all leglocky on Kimo ruled. Sure, it's Kimo, but that shit still rules), Frye (Epic fight, and Ken pulled off a flyin' heel hook), and Severn (Their first fight, of course).

So, yeah, I like Ken.
---
Ken went from ufc 1 to 61, that alone is a great accomplishment and compliment to his ability and/or drawing power. Shamrock also had the coolest leg locks ever, I mean his heel hook on Pat Smith and spinning knee bar on Bas Rutten are utterly awesome. And the flying heel hook on Don Frye.

Shamrock pretty much put the ufc to a new level. Shamrock vs Ortiz was the first really good card Zuffa had produced (debateable). First one to have betting lines mainstream and most buys. Tito = star. Tito loses to Couture = star. Liddell beats Tito. Liddell = star. Liddell and Couture have the first TUF which captures a whole new core of fans.
Banned
Join Date: Feb 2007
Posts: 3,238
Ken is my favorite fighter and always will be despite the losses last year in under 3 minutes, hes still a legend to me and it would be an honor to shake hands with him.
Also, I'm glad to finally see a thread about Shamrock where more then 95% of it is positive
Reading these threads lately with all these terrible comments about Ken honestly, it makes my stomache sick. I have soo much respect for that man you guys have no idea, and to hear some good news about him and the UFC is good to know and I have to see these disrespectful comments about the same thing.
Ken's transition into pro wrestling defenatly was a good thing for both the sport and for himself, he got his name out there and made a ton of loop and also got the word around about the UFC, heck, him and Owen Hart also had a Lion's Den match and another in Stu Harts Dungeon, all in honor of MMA.
The Randy Couture thing is getting old too, 'Ken is not Randy' ... it should be the other way around, Randy is not Ken.
Ken was a pro wrestler before an mma fighter. He made the cross back for the money, I can't blame him. He finished his contract got some offers and went back to what he loves doing. Sure Ken was broken down and past his athletic prime but hell he put on some great fights. I mean Fujita, Frye and Tito one and all huge, epic and fun fights.
attention whore
Join Date: Oct 2006
Location: Branson, Missouri
Posts: 14,445
Quote:
I mean his heel hook on Pat Smith and spinning knee bar on Bas Rutten are utterly awesome. And the flying heel hook on Don Frye.
I can only agree on 2 of those 3 things.
Ken vs Fujita did indeed rule. I can't believe I didn't mention that. Also, I liked his fight with Otsuka a lot. Granted, it's Otsuka, but Ken did look really good in that fight.
---
Yeah it's Ostuka so it kind of took away from the big fight feel. The Lion's Den was also the first offical mma team/camp. So once again Ken is an influence.
lol oh hell yeah, pat smith, both bas fights, severn 1, both kimo fights, otsuka, fujita, frye, first tito fight, all gooddd
MMA Fanatic
Join Date: May 2007
Posts: 5
One of my favorite fighters forever...The man has integrity, and I believe that every fighter should thank him for his contribution to the sport...That being said, I have to agree with Maximus. I would rather see him coaching some new talent than getting kicked around the octagon. He doesn't really have anything left to prove...
yea, hes great, and hes done so much for the sport. his feud with tito brought alot of people into the sport. but damn i just wish he could put up a better fight rather than getting beat down horribly 3 times in a row.
Does Arlovski deserve a title shot?
---
I read in afew other threads that AA deserves a title shot? What do you guys think of AA? Does he deserve a title shot? And how do you think he would perform against other heavy weights coming over from pride, or/and tim "crapzilla" silvia should they fight again.
---
If a law is unjust, a man is not only right to disobey it, he is obligated to do so. ~ Thomas Jefferson
Sig by D.P.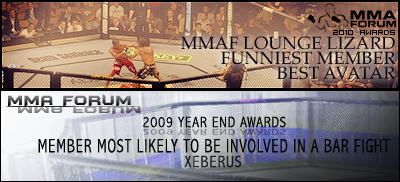 ---
Last edited by xeberus; 07-02-2007 at

11:28 PM

.
Currently Active Users Viewing This Thread: 1

(0 members and 1 guests)
Posting Rules

You may post new threads

You may post replies

You may not post attachments

You may not edit your posts

---

HTML code is Off

---