BJ didn't mean anything by it that Diego was an overachiever in which is he. I dont know how people can hate BJ these days he is a lot more humble and a better fighter cause of it.
---
Quote:
You did not say it was more impressive than the Guida fight, you said that his loss to Lyoto was more impressive than any of Diego's wins, which is a ridiculous statement.

I just don't like how you are downplaying Diego's success, it's disrespectful.
I refuse to show respect to Sanchez after he pushed Koscheck at the weigh ins. Was the most unsportsman-like thing I've ever seen and I'm embarrassed by it still.
If you took Penn's fight against Lyoto and compared it one by one to all of Diego's fights, you'd be more impressed with Penn I'm pretty sure.
I have respect for Diego's skills...he may be a weirdo but the dude has drive and confidence that not many fighters can match. He's a great athlete, great wrestling and elite cardio.

The problem in my opinion is BJ cannot be taken down or knocked out at LW. Hell, he can't even be knocked DOWN at LW, then add his jitz (also best in the LW division) and finally fixing the only hole in his game - cardio.

I don't really like or dislike BJ, but i love watching him fight. Currently he has zero weaknesses. I don't think i can honestly say any of the other 4 champs are without weakness.

BJ is a beast who is now in shape and motivated. Diego's only hope in hell is to win a decision.
Quote:
How is Diego technically any better at striking than average, he misses over half the punches he throws, is not even remotely accurate and leaves his chin wide open and exposed. Diego is far from the most skilled fighter, he only has so many defenders because he is about to fight BJ. I remember when everyone would adamantly defend Stevenson, then he got forgotten, but Sherk was a monster and blah blah blah, forgotten, then it was KenFlo, noticing a pattern, Diego isn't a legitmate contender he is the flavor of the month for the BJ haters.
This post pretty much sums up any pre-fight BJ talk. Being on this forum as long as I have people have been saying the same things over and over. BJ can be a douche noone denies that, but peoples hatred for him often cloud their judgement of a match. Everyone keeps refrencing Diego's "pace", i remember everyone saying the exact same thing whe he was gonna fight Stevenson and Sherk, moreso with Sherk. Alotta people thought Sherk was gonna win that fight and virtually every single person said his "relentless pace" and "great cardio" would wear BJ out. After 3 rounds BJ looked completely fresh so that failed. GSP wore BJ out and beat him up but GSP is way better than anyone in the 155 pound division aside from BJ by a very very large margin.
---
Last edited by streetpunk08; 12-09-2009 at

07:12 PM

.
Quote:
Originally Posted by
tap nap or snap
View Post
Quote:
I was wondering where people were saying Diego had really inaccurate striking for that Guida fight. Although that site isn't 100 percent reliable, it is enough to prove that Diego isnt as inaccurate as people make out. He was tagging Guida over and over and his striking looked pretty sharp. He is definitely a decent striker.
You realize it says Diego landed less than 50% of his head shots right? That puts him about average against Guida who has tremendous chin and heart but doesn't really do much to avoid getting hit.
---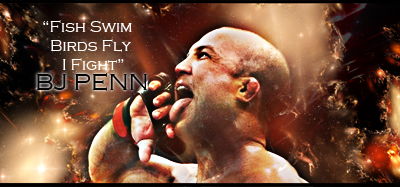 "If you get hit and it hurts hit him back you not knocked out yet."-Joe Doerksen
The Toxic Terrors (FFL)
Demetrious Johnson*Eduardo Dantas*Emanuel Newton*Will Brooks*Michael Page
Banned
Join Date: Apr 2009
Location: Manchester
Posts: 5,115
Quote:
You realize it says Diego landed less than 50% of his head shots right? That puts him about average against Guida who has tremendous chin and heart but doesn't really do much to avoid getting hit.
He also landed 23 of 34 head jabs which is pretty good for picking fighters off with. Either way his striking isnt as bad as you are making out. Previous users have summed up my feelings pretty well. You go on as if Diego hasnt earned the right to fight BJ Penn. Diego is highly under rated from the majority and will put up a good fight.
Currently Active Users Viewing This Thread: 1

(0 members and 1 guests)
Posting Rules

You may post new threads

You may post replies

You may not post attachments

You may not edit your posts

---

HTML code is Off

---