Denis Kang cut from the UFC
---
Quote:
Despite winning the Fight of the Night award at UFC 105, middleweight Denis Kang's 10-month run with the UFC has come to an end for his loss to Michael Bisping last month at the event in Manchester, England.

FanHouse confirmed the release Wednesday with the American Top Team and while Kang's management would not specifically name the promotions Kang is eyeing, they told FanHouse that the French-Korean Canadian is currently in talks with several promotions in the US and abroad.

Fighting for a laundry list of promotions since 1998, Kang made his long-awaited UFC debut in January at UFC 93 against Alan Belcher, but the hype was quickly derailed when he tapped out to a second-round guillotine choke. Though he was demoted in his next fight to the undercard at UFC 97 in April, he scored the high-profile Bisping fight with a win against Xavier Foupa-Pokam.

Kang, 32-12-1 overall, finishes his UFC career at 1-2.
http://mma.fanhouse.com/2009/12/09/r...tside-octagon/
That sucks. He should have gotten another fight.
---
"Nothing like a strangulation to get the circulation going."
That didn't last long. It seemed like Bisping really broke his spirit in that fight.

I'll be the first to say it, Strikeforce bound?
---
Favourite Fighters:
Dan Hardy
Paul Daley
Georges St-Pierre
Nick Diaz
Cain Velasquez
Frank Mir
Demian Maia
All the British MMA guys
And... Fedor!
He should just go to SF and stay there.
---
Favorite fighters:
1. Badr Hari
2. Remy Bonjasky
3. Mauricio Rua
4. Anderson Silva
5. Alistair Overeem
Yeah that's what'll probably happen - and so he should, a guy with Kang's experience and skills should be fighting in a top-tier organisation.
---
Thanks to limba for this AWESOME sig
MMA Fanatic
Join Date: May 2009
Location: Pensacola, Fl
Posts: 78
1-2 says it all. Sure I would have gave him one more shot myself but at the end of the day you got to perform and he didn't.
In my eyes, he was 2-1. He was manhandling Alan Belcher the entire fight then he got a lucky submission. I realize a loss is a loss but he only convincingly loss against Bisping who is apparently a good fighter in the UFC, although I disagree.
A sad but understable cut. Kang is an experienced veteran who really should be 3-0 in ufc now against the guys he faced. For a blackbelt he got totally tooled on ground by Bisping both when he was on top and again when he was on bottom. Even his fast and sharp striking we are used to see wasn't really that effective in ufc.
Im guessing its not just because of those 2 losses, but the price tag he came with prolly was more than his performance would cover for. He can go to SF and tool Shields and Diaz after Hendo is done spanking them, he would be a top 5 MW in SF easily.
---
"When I land that left hook, the fight will be over."
-Paul Daley (He called it!)
I can see where the UFC is coming from for cutting him, especially as of late, I would put money on strikeforce
Sad to see a such a high profile fighter leaving because of a loss to another high profile fighter. He should have gotten one more fight, but that's the way the UFC does things so.. Strikeforce it is for him.
---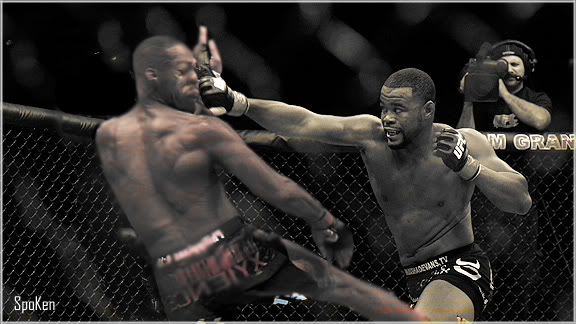 Sweet sig by Life B EZ
I feel like I get paid way to much money, but not enough -Nick Diaz
Currently Active Users Viewing This Thread: 1

(0 members and 1 guests)
Posting Rules

You may post new threads

You may post replies

You may not post attachments

You may not edit your posts

---

HTML code is Off

---