Banned
Join Date: Aug 2007
Location: banned
Posts: 0
Takedown, Dominate & Destroy


shit spoilers indeed they are just starting to air the prelims here and i thought it was gonna coinside with this thread. Ive had several matches ruined now. Not your fault as you put spoilers but i just wasnt paying enough attention lol
---
Top 7 Favorite Fighters at the moment
1. Forrest Griffin
2. Clay Guida
3. Shane Carwin
4. Jon Fitch
5. Chuck Liddell
6. Wanderlei Silva
7. Chris Leben
Quote:
Originally Posted by
Emericanaddict
View Post
shit spoilers indeed they are just starting to air the prelims here and i thought it was gonna coinside with this thread. Ive had several matches ruined now. Not your fault as you put spoilers but i just wasnt paying enough attention lol
ah i hate that :<
imo stay away from the forums like a fat kid from a treadmill, when the viewing times are off. in a few minutes im going to evacuate until after the 107 maincard live
---
If a law is unjust, a man is not only right to disobey it, he is obligated to do so. ~ Thomas Jefferson
Sig by D.P.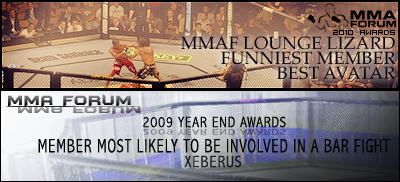 Takedown, Dominate & Destroy


Damnit the progam listing says the prelims should be on but thyre showinf the stupid ass countdown for some reason. BUt yeah I think im gonna stay off for awhile. Gonna nerd out on WoW until the fights start I think. Peace out.
---
Top 7 Favorite Fighters at the moment
1. Forrest Griffin
2. Clay Guida
3. Shane Carwin
4. Jon Fitch
5. Chuck Liddell
6. Wanderlei Silva
7. Chris Leben
Was good Preliminary card . hope they show belcher and hendricks fights .


p.s from Dana twitter : "Gouveia vs belcher holy ******* shit!!!!!!!!!!!"
---
Last edited by Guymay; 12-12-2009 at

09:53 PM

.
Takedown, Dominate & Destroy


kinda pissed they didnt show ANY prelims even though this is the first time my tv guide has listed a whole block out for them it was just the stupid countdown. Ohwell event is starting WAR MIR, GUIDA, FITCH AND PENN!
---
Top 7 Favorite Fighters at the moment
1. Forrest Griffin
2. Clay Guida
3. Shane Carwin
4. Jon Fitch
5. Chuck Liddell
6. Wanderlei Silva
7. Chris Leben
Currently Active Users Viewing This Thread: 1

(0 members and 1 guests)
Posting Rules

You may post new threads

You may post replies

You may not post attachments

You may not edit your posts

---

HTML code is Off

---