UFC 107 Preliminary Card Play by play & discussion [**SPOILERS**]
---
The Preliminary Card is pretty stacked , so it deserve a discussion thread .
-Kevin Burns vs. T.J. Grant
R1 – Grant shoots for a takedown early, but Burns bounces back up quickly. Burns connects with a huge punch that drops Grant to the mat, Burns follows up to finish, but Grant recovers. Back on the feet, Grant connects with a good punch of his own, shots and takes Burns to the ground. Grant passes to side control, but Burns is able to regain half guard. Burns slips out the back door and the fight is back up again. During and exchange, Grant throws a quick kick and nails Burns in the groin. Burns takes a moment, but then the fight continues. Grant connects with a huge right hook that drops Burns, and he follows up with hammer fists to get the finish.
T.J. Grant
def. Kevin Burns by TKO (referee's stoppage) at 4:57, R1
-DaMarques Johnson vs. Edgar Garcia

R1 – The fighters come out swinging heavy early on, both fighters connecting with heavy shots. Johnson throws a kick and it's caught by Garcia who takes the fight to the ground. Garcia traps Johnson in a choke, but he stays tough and eventually works his way out and back to the feet. The fighters clinch against the cage and Garcia opens up a big series of punches. Johnson survives and moves away only to be dropped with a big punch. Garcia swoops in for the finish, but Johnson pops him with an upkick, then slips on a triangle choke. Garcia falls to the side and taps out.
DaMarques Johnson
def. Edgar Garcia by submission (triangle choke) at 4:03, R1
-Lucio Linhares vs. Rousimar Palhares
R1 – Palhares wastes no time at all getting the fight to the ground, working from the top on Linhares. Palhares works from within Linhares' guard, but not enough action and the fight is stood back up. The fighters hit the mat again quickly as Palhares goes for a heel hook and almost gets it, but Linhares slips out. Palhares gets top position and goes for another leg lock, but Linhares again gets out.
MMAWeekly scores R1 10-9 Rousimar Palhares
R2 – Palhares is much slower this round, throws a weak kick and Linhares takes him down. Palhares reverses, but finds himself in a triangle choke. Palhares escapes and the two fighters begin to battle for position. After a lull in action the two fighters are stood back up again. Palhares looks gassed as he goes for a takedown, Linhares works for an omo plata. Palhares escaps and rolls for another heel hook and Linhares quickly taps.
Rousimar Palhares
def. Lucio Linhares by submission (heel hook) at 3:21, R2
-Johny Hendricks vs. Ricardo Funch
R1 – A few punches early and Hendricks shoots in, but Funch defends well. Funch actually ends up getting position and putting Hendricks down, but only for a moment before they bounce up again. Funch gets a little too aggressive, and Hendricks picks him up for a big slam. Funch gets back up again, only to get caught with Hendrick's signature clinch and uppercut combo. A scramble on the ground results in Hendricks locking on a guillotine, but the round ends.
MMAWeekly scores R1 10-9 Johny Hendricks
R2 – Hendricks lands a few shots to open the round and then picks Funch up for another big slam. Hendricks lets Funch back up again, and he starts to land some more good shots before Funch has had enough and shoots in for a takedown. Hendricks defends and lands some good knees before taking Funch down again. Hendricks lets him up once again, and Funch again tries for a takedown with no success. Hendricks eventually reverses position, and takes Funch's back. Hendricks goes for punches, but the round comes to a close.
MMAWeekly scores R2 10-9 Johny Hendricks
R3 – Hendricks lands another takedown just seconds into the third round and again works to take Funch's back. Funch gets out of the bad position, only to end up with Hendricks on him again landing punches from the top. Hendricks unloads with a nasty body shot before shooting back in again, and moving to side control once on the ground. Hendricks goes for a key lock, while popping Funch with elbows for his troubles. Hendricks picks Funch up and literally tosses him up in the air and down to the mat. A big flurry at the end and the fight comes to a close.
MMAWeekly scores R3 10-9 for Johny Hendricks
Johny Hendricks
def. Ricardo Funch by unanimous decision (30-27, 30-27, 30-25)
-Shane Nelson vs. Matt Wiman
R1 – Nelson and Wiman both come out swinging for the fences, with Nelson eventually catching Wiman with a good shot that seems to rattle him. Wiman gets his senses back quickly and is back after Nelson. Wiman lands a nice body shot that catches Nelson off guard. Wiman connects with a big right hand, followed by another that drops Nelson to the canvas. The Hawaiian pulls guard as Wiman starts his ground attack. Wiman lets Nelson back up and Nelson has a good cut over his right eye. A few more exchanges and the round comes to an end.
MMAWeekly scores R1 10-9 Matt Wiman
R2 – Wiman throws a nice kick that lands on Nelson's face as he ducks, but it only glances him and he puts Wiman on his back. The fight is stood back up and Nelson starts to step forward and is greeted by some serious right hands courtesy of Wiman. Wiman gets a leg and drags Nelson to the mat and starts to throw good forearm and elbow shots. Wiman leaves his foot in a bad position and Nelson goes for a heel hook, but Wiman slips out. The round ends with more forearm shots from Wiman.
MMAWeekly scores R2 10-9 Matt Wiman
R3 – Both fighters are throwing strikes and one of Wiman's leg kicks goes too high and cracks Nelson in the groin. Nelson takes a moment and the fight restarts. Wiman shoots in and scores a nice takedown as he throws down more forearm strikes. Nelson starts to find his range, but Wiman stays on the attack, goes for a guillotine, and Nelson falls to the ground to escape. Nelson again goes for a heel hook, but this time gives up his back and WIman starts to look for a choke. Wiman pounds away at Nelson trying for a finish but the final horn sounds.
MMAWeekly scores R2 10-9 Matt Wiman
Matt Wiman
def. Shane Nelson by unanimous decision (30-27 on all cards)
-Wilson Gouveia vs. Alan Belcher
R1 – Belcher steps out aggressive, walking Gouveia down early, as both fighters throw some heavy, heavy leather. Belcher appears to get the best of Gouviea with a good punch, but the Brazilian battles back immediately with some good shots of his own. Belcher attacks Gouveia against the cage and the American Top Team fighter drops to the canvas. Belcher follows up with a few more shots, as Gouveia can only cover up and the fight is stopped.
Alan Belcher
def. Wilson Gouveia by TKO (referee's stoppage due to strikes) at 3:02, R1
---
Last edited by Guymay; 12-12-2009 at

09:44 PM

.
Good win for Johnson , sound like it was good back and forth fight .
master of leg breaking is back
Solid undercard action thus far. Thanks for the updates!
Nice man, rep for this

Man palhares via leglock, you dont see a lot of those these days.

(was lesnar/mir 1 via leglock or kneebar?)
---
If a law is unjust, a man is not only right to disobey it, he is obligated to do so. ~ Thomas Jefferson
Sig by D.P.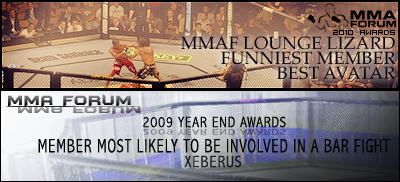 Light Heavyweight
Join Date: Nov 2008
Location: NC
Posts: 3,059
Quote:
Nice man, rep for this

Man palhares via leglock, you dont see a lot of those these days.

(was lesnar/mir 1 via leglock or kneebar?)
Knee bar.
Cool for the leg lock win, those are pretty rare, but damn is Palhares so boring and one dimensional. He had flat nothing for Hendo and had nothing for Horn except for lay n pray.
---
Attero Dominatus.
Funch vs. Hendricks Sound like a war

Join Date: Oct 2006
Location: Wa
Posts: 2,550
wish I could watch these live. Thanks for the pbp
---
_________________________________________________
_________________________________________________
Currently Active Users Viewing This Thread: 1

(0 members and 1 guests)
Posting Rules

You may post new threads

You may post replies

You may not post attachments

You may not edit your posts

---

HTML code is Off

---